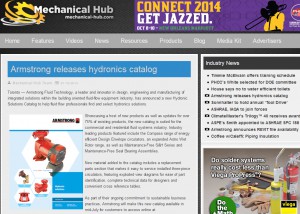 As seen on mechanical-hub.com - July 16, 2014
Toronto — Armstrong Fluid Technology, a leader and innovator in design, engineering and manufacturing of integrated solutions within the building oriented fluid-flow equipment industry, has announced a new Hydronic Solutions Catalog to help fluid flow professionals find and select hydronics solutions.
Showcasing a host of new products as well as updates for over 75% of existing products, the new catalog is suited for the commercial and residential fluid systems industry. Industry leading products featured include the Compass range of energy efficient Design Envelope circulators, an expanded Astro Wet Rotor range, as well as Maintenance-Free S&H Series and Maintenance-Free Seal Bearing Assemblies.