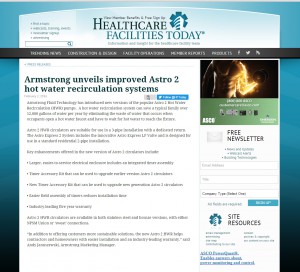 As Seen on Healthcare Facilities Today - February 2, 2016
Armstrong Fluid Technology has introduced new versions of the popular Astro 2 Hot Water Recirculation (HWR) pumps. A hot water recirculation system can save a typical family over 12,000 gallons of water per year by eliminating the waste of water that occurs when occupants open a hot water faucet and have to wait for hot water to reach the fixture.
Astro 2 HWR circulators are suitable for use in a 3-pipe installation with a dedicated return. The Astro Express 2 System includes the innovative Astro Express LF Valve and is designed for use in a standard residential 2-pipe installation.