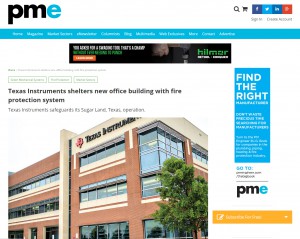 As seen on pmengineer.com - May 27, 2015
When making such a significant investment into a company's operations, it is smart business sense to have some protection built in.
That certainly is the true with Texas Instruments' latest facility in Sugar Land, Texas.
TI, a worldwide semiconductor design and manufacturing company, along with an engineering team led by Project Manager Kenny Roland, P.E., with Houston-based DBR Engineering Consultants, went the whole nine yards in safeguarding the Sugar Land operation, which opened with a ribbon-cutting ceremony July 23, 2014.