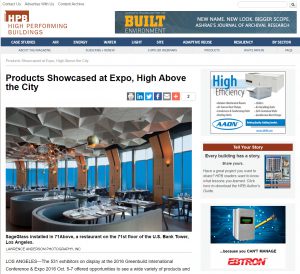 As Seen on hpbmagazine.org – October 11, 2016.
LOS ANGELES—The 531 exhibitors on display at the 2016 Greenbuild International Conference & Expo 2016 Oct. 5-7 offered opportunities to see a wide variety of products and services available to professionals within the sustainable building industry.
Those products were not limited to the floor of the Los Angeles Convention Center.
Saint-Gobain invited the industry press to see an example of SageGlass, nearly 3,000 square feet of it, installed on the 71st floor of the U.S. Bank Tower in downtown Los Angeles. The owner of a restaurant, 71Above, wanted to give diners an unobstructed view of the city without blinds or shades. The smart electrochromatic glass controls sunlight to optimize daylight, outdoor views and comfort while preventing glare, fading and overheating. Also, SageGlass significantly reduces energy demand and HVAC needs by blocking up to 91 percent of solar heat.