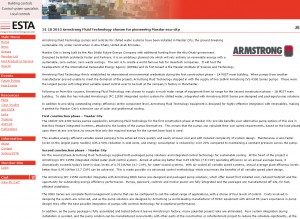 As seen on Energy Services and Technology Association - October 31, 2013
Armstrong Fluid Technology pumps and controls for chilled water systems have been installed in Masdar City, the ground-breaking sustainable city under construction in Abu Dhabi, United Arab Emirates.
Masdar City is being built by the Abu Dhabi Future Energy Company with additional funding from the Abu Dhabi government. Designed by British architects Foster and Partners, it is an ambitious planned city which will rely entirely on renewable energy with a sustainable, zero-carbon, zero-waste ecology. The aim is to create a world-famous hub for cleantech companies. It will host the headquarters of the International Renewable Energy Agency (IRENA) and its first tenant is the Masdar Institute of Science and Technology.