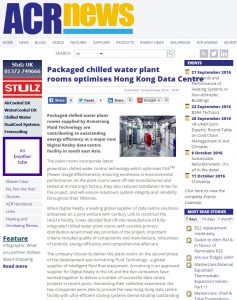 As Seen on acr-news.com – September 12, 2016
Packaged chilled water plant rooms supplied by Armstrong Fluid Technology are contributing to outstanding energy efficiency at a major new Digital Realty data centre facility in south east Asia.
The plant rooms incorporate latest generation chilled water control technology which optimises PUETM (Power Usage Effectiveness), ensuring excellence in environmental performance. As the plant rooms were off-site manufactured and tested at Armstrong's factory, they also reduced installation times for the project, and will ensure maximum system integrity and reliability throughout their lifetimes.