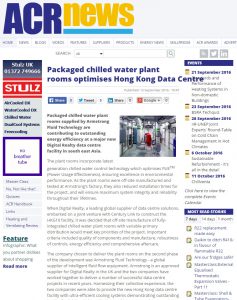 As Seen on acr-news.com – September 12, 2016
Packaged chilled water plant rooms supplied by Armstrong Fluid Technology are contributing to outstanding energy efficiency at a major new Digital Realty data centre facility in south east Asia.
The plant rooms incorporate latest generation chilled water control technology which optimises PUETM (Power Usage Effectiveness), ensuring excellence in environmental performance. As the plant rooms were off-site manufactured and tested at Armstrong's factory, they also reduced installation times for the project, and will ensure maximum system integrity and reliability throughout their lifetimes.
When Digital Realty, a leading global supplier of data centre solutions, embarked on a joint venture with Century Link to construct the HKG10 facility, it was decided that off-site manufacture of fully-integrated chilled water plant rooms with variable-primary distribution would meet key priorities of the project. Important criteria included quality of components and manufacture, robustness of controls, energy efficiency and comprehensive aftercare.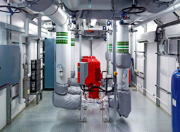 The company chosen to deliver the plant rooms on the second phase of the development was Armstrong Fluid Technology - a global supplier of intelligent fluid flow equipment. Armstrong is an approved supplier for Digital Realty in the UK and the two companies have worked together to deliver a number of successful data centre projects in recent years. Harnessing their collective experience, the two companies were able to provide the new Hong Kong data centre facility with ultra-efficient cooling systems demonstrating outstanding levels of reliability, delivered within ambitious timescales. By reducing overheads and enabling the data centre's environmental performance to achieve world class standards, the chilled water plant rooms are helping to enhance the operator's commercial strengths and competiveness in the global data processing arena.
Energy efficiency
The chilled water systems supplied for the Hong Kong datacentre utilise an advanced digital relational control technology called Hartman LOOPTM, which is capable of treating the entire system 'holistically', rather than as individual sub-systems.
Traditionally, chiller plants use technology based on independent control loops with PID feedback control, but this analogue approach is insufficiently flexible to deliver the sorts of energy efficiencies demanded for energy-intensive sites such as data centres. By contrast, the Hartman LOOP control incorporated in the Armstrong chilled water-plant rooms has the ability to calculate and determine the best power relationship between key system components. This achieves optimal power relationships across each system, with equipment loading in one device traded off to pick up more load on another, thereby achieving the same net "tonnage" for a lower kW input.
It replaces conventional, inefficient capacity-based sequencing whereby devices are run at full speeds before the next one is sequenced on or off to match varying demand. Instead, components are sequenced to operate at their peak efficiency during part-load operation, along their natural curves. This may result in a greater number of devices being operated at lower speeds to take advantage of the affinity laws. When fans and pumps are slowed at lower loads, greater air and water volumes pass over larger surface areas per unit of energy expended. This improves part load approach temperatures and provides the opportunity to operate on the lower areas of the curve for higher chiller efficiency. This improves overall energy efficiency significantly.
Performance reliability
When specifying the chilled water plant rooms, Digital Realty considered that an off-site manufacture approach would ensure the best possible levels of equipment integrity and compatibility. Instead of the plant rooms being constructed in the traditional way (with components being delivered individually and assembled on site) these chilled water plant rooms were assembled, integrated and tested off-site, at Armstrong's purpose designed factory in Halesowen. This had a number of advantages.
As a company with more than 80 years' experience of fluid flow technology, Armstrong was able to ensure that all components for the plant rooms were connected and integrated exactly as required. This maximised control over the final quality of the system and minimised the risk of errors by on-site contractors. It also meant that pump performance and system integration could be tested while the plant rooms were still in the factory. On completion, the plant rooms (which feature modular design for ease of shipment) were delivered to site, just requiring final connection to services.
In addition to safeguarding reliability through quality of build, the chilled plant rooms are designed with a number of remote monitoring and diagnostic features to provide further peace of mind through preventive maintenance.
Speed of installation
As the chilled water plant rooms were manufactured off-site, the timescales for delivery of this part of the project could be reduced significantly. The HVAC element of the project was able to proceed concurrently with construction of the data centre facility, rather than having to take place at a later stage. This also meant that assembly of the plant rooms was not at risk from adverse conditions or other on-site delays, and contractor traffic at the site could be reduced.
Aftercare
As the plantrooms were delivered as full turnkey solutions, there is clear accountability for all aspects of ongoing operation.
Jose Castaneda, senior design manager at Digital Realty commented: "The packaged chilled water plant rooms enabled us to reduce site works for the new Hong Kong facility, and enhanced our ability to meet the project schedule for delivery and installation. Another important benefit was that we were able to test the operation and control technology of the plant rooms at the factory, with engineers on hand to verify that the performance of all components was optimised. This enabled us to streamline on-site commissioning and provided a robust basis for reliable operation in the future.'
Dominic Cutts, Commercial Director – Buildings and Industrial at Armstrong Fluid Technology added, "Having worked in collaboration with Digital Realty in the UK, we are extremely proud to have been chosen as supply partner for this prestigious project in south east Asia. Armstrong's research and development team has been concentrating, for the last decade, on technologies capable of reducing the environmental and financial impacts of energy-intensive sites. Our long association with Digital Realty has helped in this process, culminating in solutions with measurable benefits for data centres, and it was a great pleasure to be part of this project".
Also seen on: