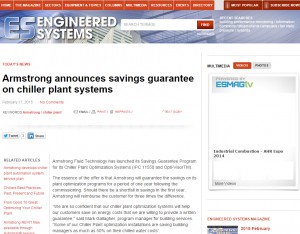 As seen on esmagazine.com - February 17, 2015
Armstrong Fluid Technology has launched its Savings Guarantee Program for its Chiller Plant Optimization Systems (IPC 11550 and Opti-VisorTM).
The essence of the offer is that Armstrong will guarantee the savings on its plant optimization programs for a period of one year following the commissioning. Should there be a shortfall in savings in the first year, Armstrong will reimburse the customer for three times the difference.