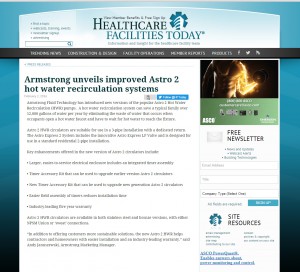 As Seen on Healthcare Facilities Today - February 2, 2016
Armstrong Fluid Technology has introduced new versions of the popular Astro 2 Hot Water Recirculation (HWR) pumps. A hot water recirculation system can save a typical family over 12,000 gallons of water per year by eliminating the waste of water that occurs when occupants open a hot water faucet and have to wait for hot water to reach the fixture.
Astro 2 HWR circulators are suitable for use in a 3-pipe installation with a dedicated return. The Astro Express 2 System includes the innovative Astro Express LF Valve and is designed for use in a standard residential 2-pipe installation.
Key enhancements offered in the new version of Astro 2 circulators include:
• Larger, easier-to-service electrical enclosure includes an integrated timer assembly
• Timer Accessory Kit that can be used to upgrade earlier version Astro 2 circulators
• New Timer Accessory Kit that can be used to upgrade new generation Astro 2 circulators
• Easier field assembly of timers reduces installation time
• Industry-leading five year warranty
Astro 2 HWR circulators are available in both stainless steel and bronze versions, with either NPSM Union or 'sweat' connections.
"In addition to offering customers more sustainable solutions, the new Astro 2 HWR helps contractors and homeowners with easier installation and an industry-leading warranty." said Andy Januszewski, Armstrong Marketing Manager.
Also seen in: