As Seen On: hpac.com February 2, 2021
FROM THE NEW ISSUE: As 2021 finally starts to find its footing, we look at the latest economic numbers and glean some informed wisdom from industry insiders.
In many ways, February feels like the start of 2021. Pandemic-ravaged 2020 was already the most disorienting and likely worst year in most of our lives when it mercifully ended. But then, as if competing, the new year debuted with a disturbing display of unprecedented political unrest, rattling both the nation's capital and our collective American psyche.
As we entered February, however, as shaken and as saddened as many of us still are, and as sobering as the grim economic numbers continue to be, the glimmer of hope that had emerged in December only to be doused... now definitely seems rekindled. And in large part, that can be traced to the $900-billion federal stimulus package that finally passed in December and the emergency approval and rollout of two COVID-19 vaccines that are now reaching millions more Americans each week.
"The continued rollout of vaccines means 2021 will be a better year," said Richard Branch, chief economist for Dodge Data & Analytics, speaking Jan. 19. "We do expect that the economy will recover and move in lockstep with the vaccine rollout. And that will pull construction starts with it through the course of the calendar year. So we are confident we will see this market recover. Although, it will be a long, slow road back to full recovery through 2021, and beyond."
For now, a comprehensive national strategy from the new Biden Administration for agressively combating the Coronavirus pandemic is taking shape and already includes a new, 100-day mask mandate on all federal properties and projects, augmented by another round of federal stimulus that will almost certainly exceed the size of the December package.
"Absent a meaningful federal stimulus package, many nonresidential construction firms and their workers will face a period of vulnerability," added Anirban Basu, chief economist for Associated Builders and Contractors (ABC). On Feb.1, Basu noted that new data published by the U.S. Census Bureau showed nonresidential spending totaled $790.2 billion for December 2020. That was 4.8% lower than in December 2019 but 3.8% higher than in December 2018.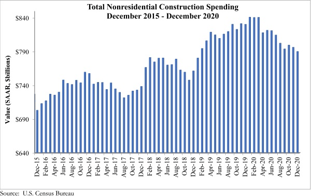 Indeed, I think those 2018 numbers, as well as the monthly data for all of 2017 and 2016 are especially noteworthy for the perspective they offer. As incredibly rough as the last year has been, marked by alarming declines, we would all do well to remember that even December's "poor" spending total is still higher than every other monthly figure recorded for those prior three years!
Granted, the worst may not yet be over, of course. And the new normal that returns may be very different from life prior to 2020, especially for downtown offices, hotels, and stores. Commercial building owners, in particular, are determined to develop safe new IAQ strategies to lure wary, remote workers back into office buildings. With all that in mind, "the lag in industry recovery could be even lengthier this time around as the specter of remote work threatens the office market, online meeting platforms interfere with recovery in business travel, and more people shop from home as opposed to on Main Street and in malls," noted Basu.
Once the recovery does arrive, however, American Institute of Architects (AIA) Chief Economist Kermit Baker, FAIA, predicts a boom. "As pandemic concerns begin to wane and economic activity begins to pick up, there is likely to be considerable pent-up demand for nonresidential space," he said last month. "We can expect, for example, a short-term burst in travel that will generate demand for lodging and related leisure and hospitality activity. Personal services, amusement and recreation activities, and cultural events can be expected to see a surge to begin to compensate for an extended period of underspending on these activities."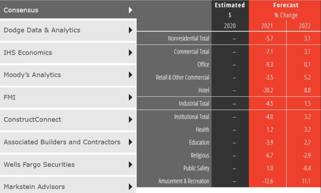 Baker made his remarks upon the Jan. 13 release of the latest AIA Consensus Construction Forecast, which aggregates eight industry forecasts from other economists, including Branch and Basu.
"As recently (last June), the panel members were calling for a high single-digit decline in construction spending on nonresidential building in 2020," noted Baker. "However, the construction market held up surprisingly well in the second half of last year, and the 2020 figures will likely show only 2% to 3% fall once the final figures are reported. Still, both design activity at architecture firms and contracts for new building construction projects were much weaker for the year, pointing to a more significant decline in spending this year. Nevertheless, a recovery is expected to be on the way, as virtually all major building sectors are projected to increase in 2022," he added.
With all that in mind, HPAC Engineering polled its own eight "virtual" industry panelists to gauge their thoughts on the year before us. As someone wiser and funnier than me observed last month, "For once, all hindsight is truly 2020." Here's what our group had to say:
##########
STEVEN LANE, Communications manager, Armstrong Fluid Technology:
What we're seeing now and what we can expect to see more of in the near future is an increased reliance on building analytics to help prevent energy drift, and drive building performance optimization. A typical building that uses a BAS will have thousands of points, all of which gather data. The issue is that such a large volume of data, from so many different BAS points is too much for a building operator to review and analyze. In addition, building mechanical systems have moved from being relatively simple to, in some cases, very complex. Operators and managers simply have not been adequately trained or prepared to understand and manage these complex systems.
In response to this situation, we're now seeing an increased reliance on data analytics as a service, and the growth of 3rd party systems and services to review building operations and provide guidance. These systems and services offer the data processing and analytics capability to detect issues such as energy drift. So, the industry is moving away from the model of an operator working with a BAS directly , and is moving to a model that combines data analytics with continuous commissioning as a strategy for optimizing long-term performance and efficiency.
##########
LARRY CLARK, LEED AP, O+M, Sustainability columnist, HPAC Engineering:
Last year was obviously dominated by the COVID-19 pandemic. According to most experts, we're still going to be dealing with the pandemic well into 2021, even with the promise of vaccines already being administered and those still in development. The latest news indicates that the mutating strains may require annual boosters, much like the flu vaccine. We've already seen many changes – much of them probably permanent – in the commercial built environment. A large number of HVAC systems have been upgraded to MERV 13 (or higher efficiency) filters, UV-C has been widely installed, and more rigorous cleaning protocols for both office spaces and equipment are the new normal. My team was recently in a commercial office building, doing an energy benchmarking project, and noted that the elevators had "self-cleaning" buttons, which are apparently not that uncommon… in spite of the fact that the medical/scientific community is divided on the risks due to surface contamination. I don't see many of these retrofits being undone, so I think it's a reasonable assumption that we'll still be wearing masks for a good part of 2021.
##########
STEVEN R. SCARBROUGH, Senior Vice President, LG Air Conditioning Technologies:
The effects of the ongoing pandemic will continue to create uncertainty in the market, particularly in the first half of the year, and it will continue to prove challenging to forecast what resources will be needed to support growth. As we look ahead, I do anticipate the continuation of strong growth in duct-free and VRF, as it's still outpacing traditional solutions in our industry. The residential ductless business continues to see record growth throughout critical parts of the country, and as an industry, we are seeing significant rebates and incentives for duct-free split systems, primarily in the Northeast and West Coast markets, where incentives run as high as $1,500 a ton.
The commercial business is facing some stiff head winds, as growth of the applied side of the commercial business has slowed due to the pandemic. My hope, however, is to utilize my strong background in duct-free split system sales to build on the success that LG has achieved over the years, despite the abrupt hurdles brought on by the pandemic. We are aiming high for 2021, and I'm optimistic that LG will reach its goals, especially as VRF technology continues to gain momentum.
##########
DAN JONES, President, UV Resources:
The COVID-19 pandemic has left no doubt that the 254 nm germicidal wavelength can inactivate the genetic material in the SARS-CoV-2 virus. Moreover, when aerosolized, the virus is likely to be more susceptible to UV-C damage than other coronaviruses. And, as there is no clear end in sight, there is no foreseeable decline in the demand for the germ-killing and airstream disinfection benefits offered by UV-C. Specifiers and HVAC contractors should not be deterred from recommending and specifying the proven benefits of UV-C disinfection systems, as the industry is rapidly adapting to what might likely be our "new normal" level of demand.
While antibacterial UV-C applications have improved indoor air quality for decades, it was the pandemic that took the technology's use in the eyes of building managers from energy savings to infection mitigation. Now, the market is starting to view UV-C along the same lines as air filtration. Just as no one would operate an HVAC system without air filters—the time is near now when no one will operate HVAC/R systems without UV-C installed.
##########
ADAM COFFEY, CEO, CoolSys Inc.:
We are grateful to have 2020 in the rearview mirror and are optimistic that 2021 will be bring much brighter times. We've been touched by the resilient and supportive spirit of our team throughout these challenging times. That is why we created the 'CoolSys Cares Employee Relief Fund' in 2020 to provide financial support for employees during the pandemic and other unexpected life challenges. Through these efforts, we were able to raise enough funds in 2020, through employee contributions and matching donations, to support at least 130 CoolSys team members who faced financial need. 'CoolSys Cares' will continue to support our employees into 2021 and beyond.
On other fronts, CoolSys finished the year strongly despite the challenges presented by the pandemic. While our installation business was impacted in 2020, we added 6,000 new customer service locations with essential retail businesses around the country. Our acquisition activity in 2020 was on target with four strategic acquisitions along the East Coast, stretching from South Carolina to Connecticut. In the industrial sector, we are taking on more large-scale projects and expect bigger things to happen for our installation teams in 2021.
##########
DAVE COX, Owens Corning; President-elect of the National Insulation Association:
Looking at 2021, I'm especially bullish on the clean energy sector. And while the stock market is inherently volatile, the performance of equities and exchange-traded funds (ETFs) early in 2021 supports this optimistic outlook for clean energy. While the clean energy sector appears to be headed toward strong performance in 2021, things are more uncertain in the oil and gas industry. There is now a freeze on new oil and gas leases on federal lands. Additionally, federal agencies are being asked to look at eliminating fossil fuel subsidies and the Biden Administration just signed an executive order to make all federal vehicles electric as part of the executive order of "Made in America". I like to say that the most cost-effective energy is the energy that you don't use in the first place. The insulation industry is in the business of conserving energy, which bodes well for not only our industry but for our nation as well.
##########
BILL GRAY, President, Uponor North America:
Based on the latest housing-starts numbers, we are seeing a historical high in home-builder confidence. So we are confident that we will see a long-term demand in the residential market. Homeowners, in particular, want homes with superior indoor environmental quality to safeguard the health and enhance the wellness of their families.The commercial construction market has been more impacted by COVID-19, with shutdowns over the past 10 months. Commercial projects are continuing to take place, but they have longer lead times.
In February, Uponor is launching its new Complete Polymer Solution for commercial-piping applications. Combined with our mainstay PEX pipe and fittings, our new offering of PP-RCT pipe and fittings — with diameters up to 12 inches — delivers a complete polymer solution for a wide range of commercial mechanical piping projects. Uponor PP-RCT opens the door for contractors to bid on a wider variety of mechanical applications, including hydronic hot-water heating and chilled-water piping systems, plus distribution piping for radiant heating and cooling applications.
##########
BILL SILVA, President, SIRP Environmental and Energy Solutions:
Based in Indianapolis, engineer Silva believes he already has a proven technology in hand for combatting the spread of COVID-19. "No need to reinvent the wheel," he says. Since 1999, the longtime engineer has used IAQ enhancement equipment with NASA certification and peer-viewed technologies that also helped wipe out the coronavirus SARS in 2002. "They now have FDA approval combating the spread of COVID-19, too," adds Silva, who still suffers his own respiratory ill effects from volunteering at Ground Zero after 9/11. "Our activTek technology combines internal UVC light with catalysts to create a photo-catalytic process that emits safe levels of hydroperoxide, superoxide ions, and multiple types of ionization that reduces pollution, eliminates VOCs, and kills microbes in the air and surfaces." he explains.
##########