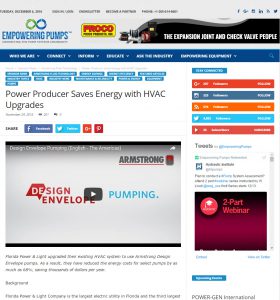 As seen on empoweringpumps.com – November 29, 2016
Florida Power & Light upgraded their existing HVAC system to use Armstrong Design Envelope pumps. As a result, they have reduced the energy costs for select pumps by as much as 68%, saving thousands of dollars per year.
Background
Florida Power & Light Company is the largest electric utility in Florida and the third largest rate-regulated utility in the United States, serving over 4 million customer accounts. A clean energy leader, FPL has one of the lowest emission profiles and one of the leading energy efficiency programs of all US electric utility companies. FPL Headquarters, located in Juno Beach, FL, is a 900,000 square foot facility housing 2500 employees. The campus consists of five buildings served by three chiller rooms. Although the facility had already achieved LEED Gold status in 2011, it was clear that the existing 22-year-old HVAC system was not operating properly, as there were many occupant complaints regarding slow response to cooling demand. Investigation of the system revealed that the chiller Δt was almost 25 degrees, where in most circumstances 8 – 12 degrees is the norm. This indicated that the chiller was working excessively hard to cool the facility.
Because this was the headquarters for Florida Power & Light, as well as the parent company NextEra Energy, redundancy was an important consideration. Managers for the facility wanted to be certain that the HVAC system would always be available.
After reviewing their options with Protec Inc., the local Armstrong representative, it was decided to proceed with Armstrong Design Envelope dualARM pumps, because of the built-in redundancy and Intelligent Variable Speed technology. The results in energy savings are as follows:
Bldg C – Secondary pump operating at 800 gpm at 125 ft:
Operating costs are based on 8,760 hrs/yr operation.
Estimated constant speed operating cost = $17,050 (based on a 4030 6x5x13 40 hp unit)
Estimated Design Envelope operating cost = $7,220 (4302 0810-040.0 at 800 gpm at 125 ft)
($17,050 – $7220)/$17,050 = 58%
Cost savings as designed = 58%
After the installation, technicians from the contractor, Thermal Concepts Inc., were given the opportunity to balance the system and adjust pump operation, with assistance from Protec Inc.:
Estimated Design Envelope operating cost with on-site flow balance adjustment from 125 ft to 95 ft
equals $5,450 (4302 0810-040.0 at 800 gpm at 95 ft)
($17,050 – $5,450)/$17,050 = 68%
Cost savings including on-site flow balance adjustment = 68%
($7,220 – $5,450) / $7,220 = 25% incremental savings with adjustment
[Tech-facts]
Equipment list
3 × 4300 0813-075.0 – 1750 gpm at 110 ft – serving bldg. d & f
1 × 4302 0813-030.0 – 836 gpm at 100 ft – serving bldg. e
1 × 4302 0810-040.0 – 846 gpm at 130 ft – serving bldg. a & b
1 × 4302 0810-040.0 – 800 gpm at 125 ft – serving bldg. c
1 × 4302 0406-003.0 – 188 gpm at 40 ft – serving Atrium
All dualARM pumps are operating on 100% duty-standby.
Armstrong Design Envelope pumps operate at variable speed to provide comfort cooling in response to demand. Design Envelope technology, combined with advanced control features make this an industry-leading solution.
For more information on Design Envelope Products & Solutions, visit www.armstrongfluidtechnology.com, or Request an Energy Audit to learn where energy savings can be found in your building.