As Seen on military-technologies.net – November 13, 2016.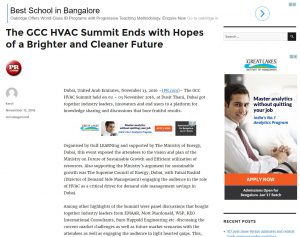 Dubai, United Arab Emirates, November 13, 2016 –(PR.com)– The GCC HVAC Summit held on 02 – 03 November 2016, at Du
sit Thani, Dubai got together industry leaders, innovators and end users to a platform for knowledge sharing and discussions that bore fruitful results.
Organised by Gulf LEARNing and supported by The Ministry of Energy, Dubai, this event exposed the attendees to the vision and plan of the Ministry on Future of Sustainable Growth and Efficient utilization of resources. Also supporting the Ministry's argument for sustainable growth was The Supreme Council of Energy, Dubai, with Faisal Rashid (Director of Demand Side Management) engaging the audience in the role of HVAC as a critical driver for demand side management savings in Dubai.
Among other highlights of the Summit were panel discussions that bought together industry leaders from EMAAR, Mott Macdonald, WSP, KEO International Consultants, Buro Happold Engineering etc. discussing the current market challenges as well as future market scenarios with the attendees as well as engaging the audience in light hearted quips. This, coupled with two quick-witted chairmen, ensured that the event was enjoyable from start to end.
Giving this Summit the technological edge were representatives from LG, Betec Cad, Armstrong Fluid Technology, Bry-Air and System Air. They showcased some of the most interesting aspects of future technological advancements as well as improvisations on current innovations to ensure sustainability and increase efficiency.
The summit also saw an address by the Abu Dhabi Quality and Conformity Council's Director of Product Conformity, Salem Khalid Al Qassimi sharing the vision of Abu Dhabi in improving the quality and energy consumption pattern of Air Conditioning Units as well as giving the audience an insight of new regulations, legal standards and product compliance practices that are being implemented.
With representatives from Dubai Carbon, Emirates Green Building Council as well as the World Green building councils shedding light on the importance of sustainable growth of construction sector through greener technologies, the event was well rounded to represent all aspects of the HVAC sector from the present challenges to future scope gave voice to the thoughts of the innovators, producers and end users alike.
About Gulf LEARNing:
Gulf Learning is one of the leading providers of business intelligence through industry specific conferences, webinars and skills enhancement training courses.
In delivering the most comprehensive business summits by leveraging its network of industry influencers, Gulf Learning organizes various conferences in the field of Utilities & Energy, HSE, Finance, Infrastructure, Human Resources, Telecom, IT, Security & Defence and Transportation.
Also seen in: