As Seen on empoweringpumps.com – December 11, 2016.
Indo-MIM is a manufacturer and supplier of metal injection molding parts located in Bangalore India. Founded in 1997, Indo-MIM is a world leader in metal injection molding, serving customers such as Honeywell, TRW and Bosch. The two major Indo-MIM facilities are located at Hoskote and Doddaballapur in India.
In early 2012, Armstrong met with the plant manager of the Hoskote facility to discuss a possible upgrade project. Operations at Indo-MIM were experiencing frequent pump breakdowns, leading to interruptions in production processes. The existing installation used 5 End Suction pumps to supply water to a furnace. Pumping loads varied according to production levels for different shifts in a 24/7 manufacturing schedule.
Two key challenges for the retrofit project were a shortage of floor space and the need for continuous operationwith minimal downtime. Given their production requirements, Indo-MIM couldn't afford to shut down the facility while the existing pumps were removed and replaced. That meant the replacement system had to be installed while the existing pumps were still operating, using only the left-over floor space (less than 9 square meters) in the mechanical room.
Armstrong designed and built a packaged system with 3 Vertical In-Line Pumps, Flo-Trex triple-duty valves and an IPS 3000 controller. The Armstrong IPS 3000 controller adjusts pump speed in response to demand. IPS control technology, combined with a space-saving package system design and long-term reliability of Vertical In-Line pumps is a cost-effective solution for commercial and industrial installations.
The custom package was assembled at the Armstrong factory, hydro tested and then shipped to site partially disassembled to accommodate narrow access to the mechanical room. The entire retrofit project required only four hours of downtime, in advance of equipment delivery, to change the mechanical room piping. The Armstrong ips 3000 control technology operates the pumps at variable speed, in response to system demand. Over the first three months of use Indo-MIM reduced their energy usage by over 33%, and saved 113,190 Indian rupees (US$1886) per month.
Managers at the facility were impressed at the energy savings as well as the reliability of the Vertical In-Line pumps. In the months since the installation, operations at the facility have experienced no unplanned shutdowns due to pump failure.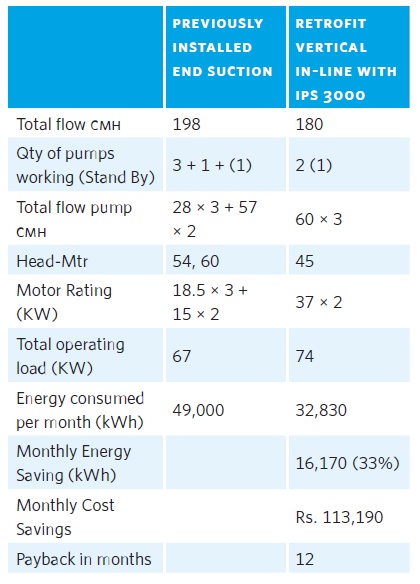 "We're seeing significant energy savings along with automated, trouble-free operation, which helps both our production processes and our product quality." ~Umamaheswar Varma, Plant Manager