As Seen on heatinghelp.com - March 05, 2019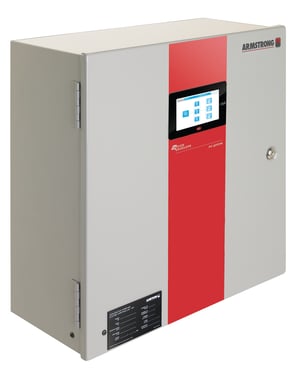 Armstrong Fluid Technology has announced the release of its new Integrated Pumping System (IPS 4000), an automation solution for commercial HVAC pumping stations of up to 8 pumps and 16 zones.
The new IPS 4000:
Automates and optimizes multi-pump installations in a range of different plant configurations
Provides sequences for variable-primary, secondary or tertiary pumping system applications
Delivers leading energy savings, with patented Parallel SensorlessTM pump staging technology
Pre-configured to leverage the capabilities of Design Envelope, the technology embedded in Armstrong pumps, the new IPS 4000 offers fast and simple setup for the most cost-effective and efficient pump control results. The IPS 4000 is compatible with existing building automation systems and ships pre-programmed for easy installation and set-up.
Commenting on the value provided by the new IPS 4000, Peter Thomsen, Director, Building Systems Solutions, stated, "The new IPS 4000 is a great control and automation solution. In particular, it will add value in any building that has short peak loads or that needs a hybrid solution to provide both Sensorless staging and critical zone sensors."
About Armstrong Fluid Technology – With over 1000 employees worldwide, operating seven manufacturing facilities on four continents, Armstrong Fluid Technology is known as an innovator in the design, engineering and manufacturing of intelligent fluid flow equipment. With expertise in demand-based control, digitalization, fluid flow, and heat transfer, Armstrong Fluid Technology leads the fluid systems industry, including HVAC, plumbing, and fire safety, providing the most energy-efficient and cost-effective solutions to building professionals and owners around the world.
The energy savings provided by Armstrong solutions support the company's "2 By 22"initiative – a commitment to reduce GHG among its installed customer base, targeting 2 million tons by the year 2022. The company also issued a challenge to industry participants to set similarly aggressive targets for the same 4-year time-frame. Armstrong has been working with customers to convert existing installations, and the initiative is on pace to reach the target.
Also Seen In:
empoweringpumps.com

-

March 05, 2019

news.thomasnet.com -

March 05, 2019

impeller.net -

March 08, 2019

worldpumps.com -

March 06, 2019

pumpengineer.net -

March 13, 2019

achrnews.com -

March

18, 2019
facilitiesnet.com -

March 06, 2019

insights.globalspec.com -

March 11, 2019

www.owler.com -

March

18, 2019
contentsharing.net -

March

2019
phcc.news

-

March

20

, 2019
coolingbestpractices.com -

March

2019
canadianconsultingengineer.com - Pg 28 - March-April edition 2019
coolingbestpractices.com - Page 9 - May 2019

bfmmagazine.co.uk - May 20, 2019