NEW PROCESS & DIAGNOSTIC TOOL

FOR THE PANDEMIC AND BEYOND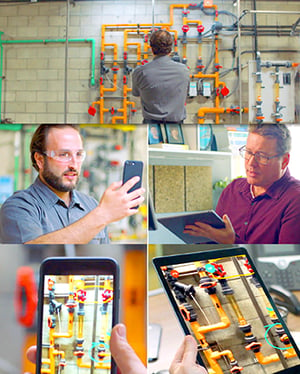 Just a few weeks ago, Armstrong was able to provide top-level expert assistance for a Design Envelope startup commissioning call in South Carolina, without flying in a product specialist from New York. Under normal circumstances the airfare and hotel would have been questioned, but under current COVID-19 travel restrictions it would have been nearly impossible. However, a new approach designed for the pandemic, along with a new app made the impossible possible for the end customer and our service partner in South Carolina.


FACETIME ON STEROIDS
"We've been describing it as a platform agnostic video conferencing app for smartphones, with extra features for detailed interactions and direction. It's really changing the way tech support and be delivered, and feedback from our customers has been 100% positive." said Rohit Mohindra, Armstrong's Lead Systems Architect. "It's the ideal solution for providing real-time expert advice while practicing safe social distancing."
Progressive technicians today might send phone pictures to a consulting specialist and then wait for a response and hold extensive back and forth discussions. The new app takes service to the next level, supporting real time video-based communication, plus a special function that vastly increases the effectiveness of the communications between two parties.
In large fluid management systems, the mechanical room can contain numerous valves, switches, pumps and pipes. With the new video app either the on-site technician or the remote consulting specialist can draw on the live video touchscreen, making circles or arrows to provide clear instructions on step-by-step procedures, safe or unsafe system changes and so on. The exchange of information takes place, just as if the product expert was standing in the room with the technician.


COVID-19 VACCINE MANUFACTURER
In one case Brian Hamilton, Armstrong's Service Technical Support Specialist was working with technician Kenny Grant of Chesapeake Systems, our Baltimore/Washington partner, to quickly commission six new pumps that are part of an urgent plant expansion. The end customer is an advanced medical lab that is gearing up to support the battle against COVID-19 and is expected to manufacture thousands of life-saving vaccine doses once the testing is complete and a vaccine can be approved.
The new app allowed the local technician to perform pre-arranged commissioning work in the mechanical room (while wearing the proper personal protection equipment and following COVID-19 sanitation procedures), and to ensure that a new installation received a flawless start-up session.
DRAWING CIRCLES & ARROWS ON THE SCREEN
"It went very smoothly," said Hamilton. "This particular job might normally have taken days, but we were done in a matter of hours. I sent him an invitation to the app, he accepted it, and we were able to start using it immediately." The app interface is intuitive and simple and works on Apple and Android devices. Both parties can see everything in the video and draw on the screen as they discuss what needs to be done for startup, tests, trouble shooting, documentation and more. Still photos can be snapped for use in technical reports.
"All of our Armstrong global service teams are being trained on the Armstrong diagnostic tool and are actively using it to support our customers," says Rohit Mohindra. "We can deploy this in Canada and the USA, the UK, India, the Pacific and Latin America. It very nicely complements our Emergency Support Network development, as well as our suite of services, including Pump Manager remote monitoring, and IBM Watson data analytics."
A NEW STANDARD FOR TECHNICAL SUPPORT
"These new services, initiatives, and this new app are succeeding and improving efficiency during difficult times. They reveal how excellent engineering innovation and total customer support really are part of the DNA of Armstrong and Design Envelope fluid management technology."
The current global pandemic is showing how Armstrong, partners, and end customers can work together using innovative new communication processes to help keep everyone safe and increase service efficiencies. It shows what can be done if we set a higher standard for provision of top-level technical services.
Armstrong is now preparing and assembling an Emergency Response Network as an essential function to support our customers, many of whom provide essential services to the public. While the immediate need for an Emergency Response Network is in response to the current COVID-19 pandemic, our expectation is that rapid response capabilities will be required. This Emergency Response Network, and a commitment to elevated service levels for our customers, will remain in place.