As Seen on pmengineer.com – June 19, 2018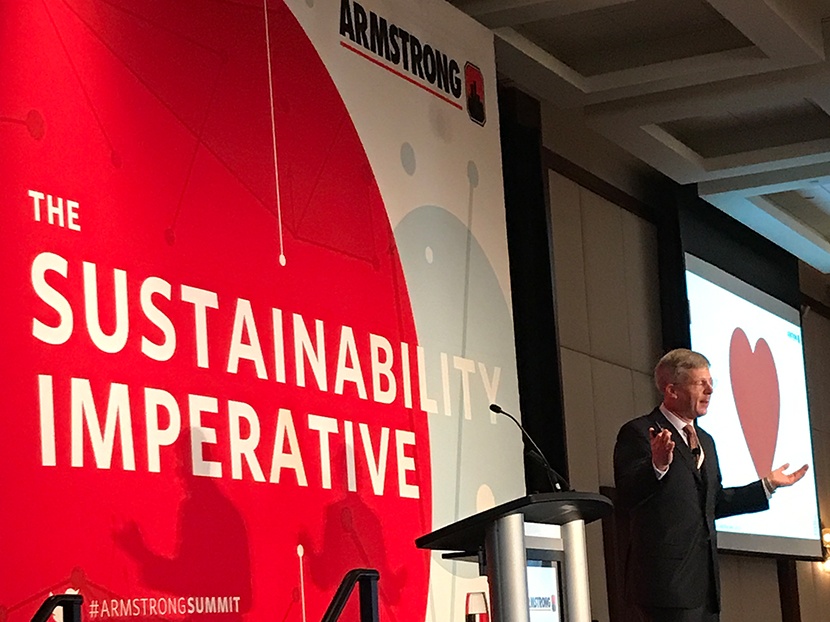 Armstrong Fluid Technology has announced an initiative to reduce Greenhouse Gas (GHG) emissions by 2 million tons by the year 2022 and issued a challenge to industry participants to set similarly aggressive targets for the same 4-year time frame.
"Organizations globally are being driven to achieve a zero footprint future. We believe this can best be achieved through key stakeholders focusing on solutions and timelines that will make zero footprint a near-term reality," said Lex van der Weerd, Armstrong's CEO. "We are both inviting and challenging all organizations to join us in pursuing the goal of zero footprint operations."
Armstrong announced at the recent Global Energy Summit in Toronto that the company is committed to reducing GHG among its installed customer base by 2 million tons by the year 2022. This is equivalent to taking 600,000 cars off the road or offsetting the average annual CO2 emissions generated by 100,000 people.
"It is two million tons of reductions in GHG [greenhouse gas] emissions by the year 2022," he said. "And what that means, specifically, for us is the owners and the leadership recognize that we have a legacy within the industry that's not very visible, but it's there nonetheless. We have decades of installed pumps all over the world — there are few countries where we don't have anything installed. We have this legacy of installed and operated equipment. … We have this understanding that what's installed all over the world is inefficient and needs to be reinstalled. So we want to say, here's what we've done with one pump in one hotel — can we please have a conversation about what we could do in your building?"
Armstrong has already launched a global validation effort across a wide range of customer types and applications with the results being validated by Bureau Veritas. The company is also significantly expanding the team of energy-savings specialists that will work closely with existing customers to measure, manage and enhance their current operations.
"While aggressive, we believe this goal is absolutely achievable," van der Weerd emphasized. "We have spent the last several years developing technology solutions that conserve energy and water, improve system efficiencies, and deliver strong and often immediate economic returns both on installed cost and operating cost that provide significant reductions in GHG emissions."
van deer Weerd added that Armstrong is committed to making the building HVAC energy upgrades cash-flow-positive for building owners from the very beginning.


Also seen in:
phcppros.com

–

June 19, 2018

pmengineer.com - June 20, 2018
reevesjournal.com - June 20, 2018
supplyht.com - June 20, 2018
empoweringpumps.com - June 20, 2018
owler.com - June 20, 2018
canadianconsultingengineer - June 20, 2018
climatecontrolme.com - June 21, 2018
pmmag.com –

June 19, 2018

heatinghelp.com –

June 21, 2018

mromagazine.com –

June 22, 2018

hpacmag.com - June 20, 2018
waterwastewaterasia.com - June 26, 2018
hpac.com - June 27, 2018
pmengineer.com - June 27, 2018
impeller.net - June 27, 2018
mcmorrowreports.com - June 2018
nxtbook.com - July 2018
owler.com - June 2018
viewer.zmags.com - July 2018
impeller.net - July 7 2018
hpac.com - Nov 7, 2018