As Seen On: estaenergy.org.uk September 13, 2021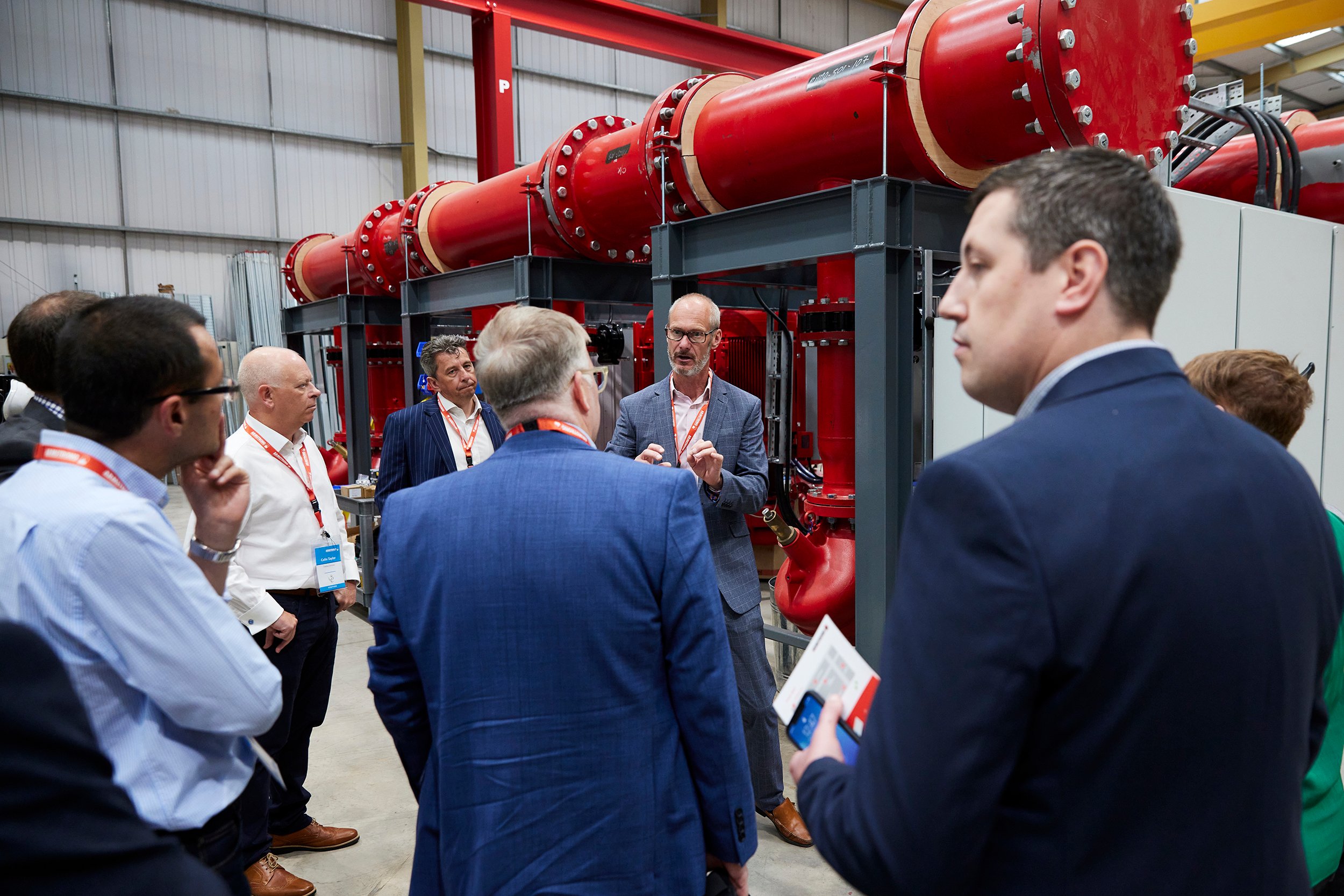 Armstrong Fluid Technology marked the latest phase in its UK expansion with the official opening of a new Systems Manufacturing Centre at Pointon Way, Droitwich.
Armstrong Fluid Technology designs, engineers and manufactures intelligent fluid flow equipment, control solutions and optimisation technologies for use in HVAC, Plumbing, Gas Transmission and Fire Safety applications. Earlier this year the company announced plans to relocate its West Midlands factory, warehouse and offices from Halesowen to larger premises in nearby Droitwich. The move provided additional space for operations to accommodate growing demand for off-site manufactured plantrooms and energy centres.
Armstrong has manufactured packaged plantrooms at a site in Heywood Wharf, Halesowen since 2004. The new site is a key facility for Armstrong, specialising in the construction of plantrooms and energy centres, packaged plant systems, and fire pump packages. A steady increase in orders meant that operations outgrew the available space at the Heywood Wharf site, prompting the relocation of manufacturing operations, warehousing, and office staff to a larger, purpose-designed site at Pointon Way, Droitwich. With over 69,000 sq ft of space, easy access to the M5 motorway, and an extensive production area, the new facility creates important strategic value for Armstrong customers.
At the official opening of the new Systems Manufacturing Centre on 9th September 2021 Armstrong customers and suppliers joined representatives from local government and the business community to celebrate the milestone in Armstrong's history. Officiating to cut the ribbon was Jason Kee – Trade Commissioner of the High Commission of Canada. Guests of honour also included Todd Rief (CEO of Armstrong Fluid Technology), James Higgins (Gemserv), Counsellor Richard Morris (Portfolio Holder for Economic Development at Wychavon District Council), Phoebe Dawson (Worcestershire Local Enterprise Partnership) and Gwen Davies (Business Central Growth Hub).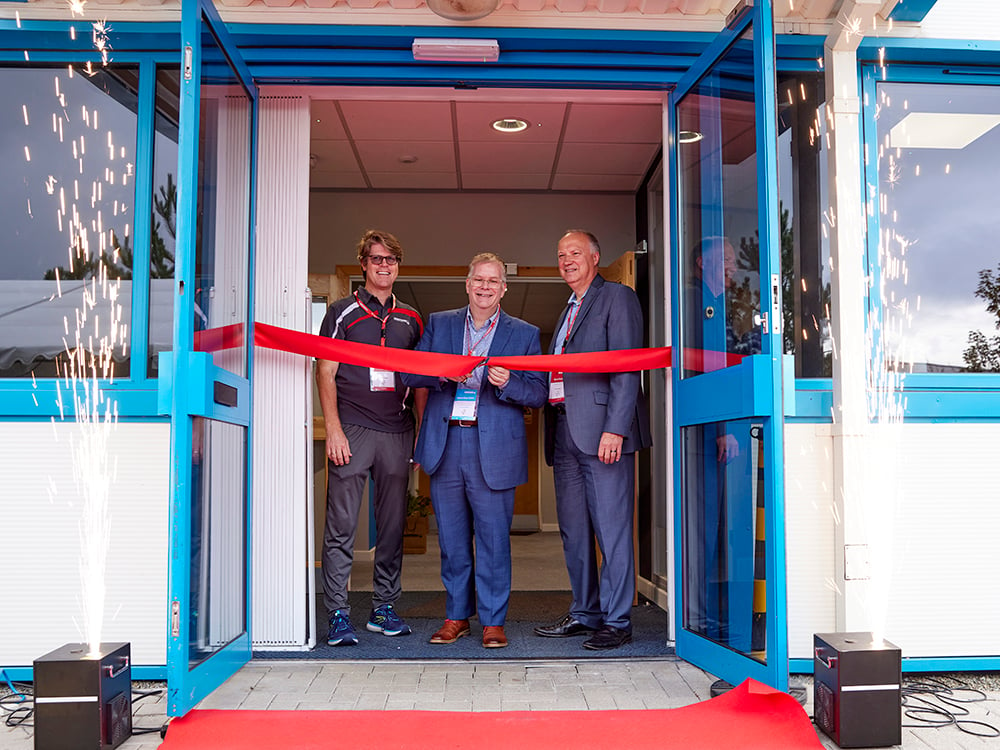 Pictured (left to right) are Todd Rief (CEO of Armstrong Fluid Technology), Jason Kee – Trade Commissioner of the High Commission of Canada, and Simon Parker (UK Country Lead for Armstrong Fluid Technology)
Todd Rief commented: 'I'm thrilled to be here today, not only to contribute to the proceedings, but ultimately to celebrate this occasion with customers, suppliers, trade associates, local business contacts, industry and local press. Since its inception, Armstrong has been guided by a set of core values: Community, Service, Learning and Innovation. Where Armstrong stands today would not have been possible without our long history of serving customers, working collaboratively to form and strengthen communities, and innovating to develop new capabilities. Our day-to-day operations and growth are tightly connected to our purpose: To protect our planet by reducing greenhouse gas emissions from buildings with our revolutionary, high value energy saving solutions. Our objective is to create a built environment that provides indoor comfort at the lowest possible environmental cost'.
'Packaged solutions and off-site manufactured integrated plantrooms are the future for our industry. In comparison to the industry standard method of assembling loose components on site, packaged solutions provide savings in almost every aspect. Shortened project schedules, procurement savings, space savings, labour savings, long term savings from design quality and professional assembly, and perhaps most importantly, energy savings and carbon footprint reduction through improved operating efficiency. Packaged plantroom solutions from Armstrong also leverage our industry-leading Design Envelope technology, delivering the best possible operating efficiency across a wide range of duty points. And in recent years Armstrong has once again led the industry, introducing our innovative pump manager service, to provide customers with connected intelligence to track and optimise performance, and better manage maintenance and service'.
'The West Midlands operations of Armstrong Fluid Technology have provided a centre of excellence for these technologies for almost twenty years. Today we're celebrating, not just the opening of a new facility and important landmark, but also what we've achieved across our 86 year history, the projects to which we've contributed and the many thousands of customers we've helped. At the same time, we're looking forward and focussing our energy on the exciting future that lies ahead.'
At the event, Armstrong announced plans for new employment and training opportunities, and discussed the sustainability measures that have been taken to enhance environmental performance of the new facility.
Since announcing its intention to move to the area, the company has recruited 16 new staff members of staff, taking the workforce based at the Droitwich site to a total of 81. The company now plans to recruit another four new employees, with vacancies for Mechanical and Electrical Fitters, Welders and Stores personnel.
Armstrong is also expanding its apprenticeship programme at Droitwich. Six young people have already joined the programme in a range of technical and commercial roles. Six additional places were announced during the event, to including an apprentice buyer, and an apprentice administrator. Six apprentices who joined the programme in previous years have now completed their apprenticeship programmes. They have been awarded their NVQ qualifications, and are now full-time Armstrong employees.
The apprenticeship programme is in extremely experienced hands. Ian Harris, who has worked for the company in the West Midlands for more than 35 years, is overseeing the scheme. A number of the company's existing employees kick-started their careers via the apprenticeship route, and Armstrong sees the creation of these training opportunities as a key part of its commitment to manufacturing in the West Midlands.
Sustainable operation
Armstrong Fluid Technology received the Queen's Award for Sustainable Development earlier this year, becoming the first company in the commercial-scale HVAC sector to receive this award in the sustainability category. Environmental performance of the new site was a key priority when relocating the West Midlands operations. LED lighting has been installed throughout the site, activated by sensors to reduce energy consumption. Armstrong has also fitted roller/shutter doors to control temperature and ventilation more effectively in loading bay areas. Electric charging points for company vehicles are another new addition at the site. Investment in 70 tonnes of capacity in four overhead cranes has also enabled the company to streamline production flows for greater efficiency.
Simon Parker, UK Country Lead for Armstrong Fluid Technology commented: 'This is an extremely proud day for our company. The new consolidated manufacturing facility will support greater collaboration between departments and provide us with enhanced assembly and storage capacity, as well as increased flexibility to more closely meet the demands of our customer base. Our success to date is in no small part due to the expertise and commitment of our Midlands team, and it gives us all great pleasure to mark the beginning of this new phase. We look forward to welcoming customers, suppliers, and new additions to our team to the new site in the coming months.'


Also Seen on