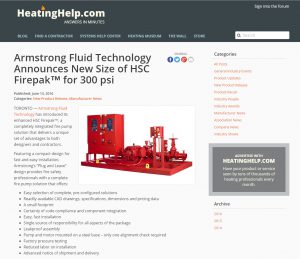 As seen on HeatingHelp.com – June 13, 2016
TORONTO — Armstrong Fluid Technology has introduced its enhanced HSC Firepak™, a completely integrated fire pump solution that delivers a unique set of advantages to both designers and contractors.
Featuring a compact design for fast and easy installation, Armstrong's "Plug and Leave" design provides fire safety professionals with a complete fire pump solution that offers:
Easy selection of complete, pre-configured solutions
Readily available CAD drawings, specifications, dimensions and pricing data
A small footprint
Certainty of code compliance and component integration
Easy, fast installation
Single source of responsibility for all aspects of the package
Leakproof assembly
Pump and motor mounted on a steel base – only one alignment check required
Factory pressure testing
Reduced labor on installation
Advanced notice of shipment and delivery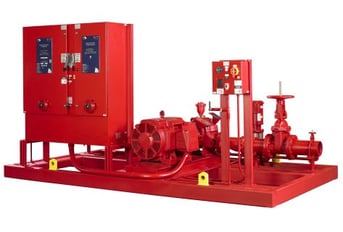 The Armstrong HSC Firepak solution is now available in a new size (5x4x17) that provides 300 psi. The HSC Firepak also has an ETL listing - 3rd Party Certification that the package meets NFPA 20 requirements.
Packaged fire solutions from Armstrong Fluid Technology provide improved work efficiency at the design stage and minimized labor costs on installation. Customers can have specifications, drawings and pricing delivered in one day.
Product features include:
Connection: up to 12"
Pressure: up to 300 psi
Flow: up to 3,000 USgpm
Driver: Electric or Diesel
For more information visit the Armstrong web site at www.armstrongfluidtechnology.com
Also seen on: