As Seen On: empoweringpumps.com February 2, 2022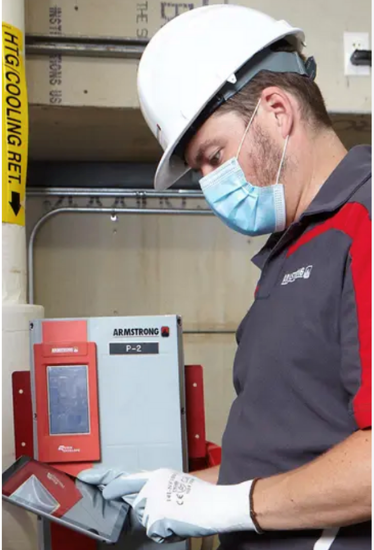 Armstrong Fluid Technology has announced a new tiered suite of service plans to assist customers in North America. The new Silver, Gold and Platinum service plans provide customers with cost-effective options to implement Active Performance Management practices, as they seek to optimize building performance and business results. All three levels of the program provide analytics, phone support and structured reports on asset performance. The more comprehensive plans include replacement parts and annual site visits.
"Our 360 Services and Support plans are designed to help customers achieve maximum uptime, while minimizing their energy and maintenance costs. These plans, enabled by the power of digital twins and predictive analytics, embedded in our Active Performance Management architecture, help elevate the performance of a building through its lifecycle", said Todd Rief, Armstrong CEO. "We invite our partners to join us and learn more about new developments in our Active Performance Management architecture and our Service offering."
About Armstrong Fluid Technology
With eight manufacturing facilities on four continents, and employees around the world, Armstrong Fluid Technology is known as an innovator in the design, engineering and manufacturing of intelligent fluid flow equipment, control solutions and digital technologies.
In the shift toward digitalization and integration of fluid-flow systems, Armstrong leads the industry, bringing edge computing to mechanical systems, approaching energy optimization as a whole-building challenge and advancing the practice of full lifecycle management of mechanical systems. Focusing on HVAC, Plumbing, Gas Transmission and Fire safety applications, we provide energy-efficient and cost-effective solutions to building and facility professionals around the world.
Armstrong Fluid Technology is committed to sustainability. In 2019, Armstrong signed the Net Zero Carbon Buildings Commitment, a program launched by the World Green Building Council. As a signatory to the program, Armstrong has pledged to ensure that all its offices and manufacturing facilities operate at net-zero carbon by the year 2030.
In 2018, the company announced a bold initiative to reduce greenhouse gas (GHG) emissions among its global customer base by 2 million tons, targeting completion by the year 2022. Armstrong recently reached and surpassed that goal, helping customers save 2.5 billion kWh of electricity usage, resulting in more than $300 million in cost savings.
Also Seen On:
gmi.expert

-

February 2, 2022

mechanical-hub.com -

February 15, 2022

phcppros.com

- February 15, 2022

hvacrworldnews.com - February 15, 2022
achrnews -

February 16, 2022

impeller.net - February 17, 2022
retrofitmagazine.com - February 23, 2022
fmlink.com - February 16, 2022
impeller.net - February 17, 2022
heatinghelp.com - February 22, 2022
myemail.constantcontact.com - February 16, 2022
waterwastewaterasia.com - February 22, 2022
achrnews.com - March 14, 2022
myemail.constantcontact.com - March 18, 2022
phccnews.com - April 4, 2022
facilitiesnet.com - April 5, 2022