As Seen On: empoweringpumps.com February 04, 2020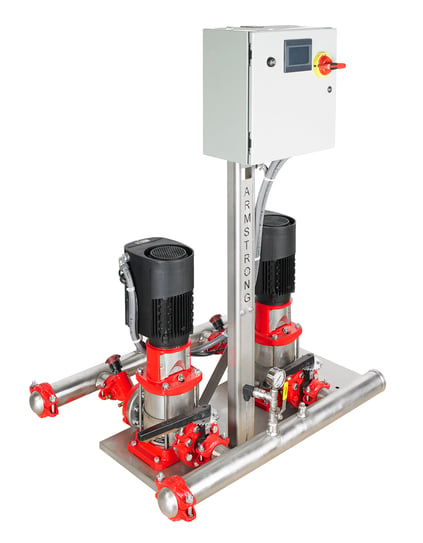 Armstrong Fluid Technology has announced new versions of the Design Envelope 6800 Vertical Multistage Booster with Design Envelope Permanent Magnet motors for increased energy efficiency.
The new Design Envelope 6800 boosters also offer Booster Manager, an innovative cloud-based Performance Management service. Booster Manager delivers industry leading analytics and performance insights including profiles of energy and water consumption. Through continuous performance management, reports and alerts, Booster Manager increases reliability and sustains optimal performance in a booster system.
Working in combination, Booster Manager and the new Ultra-Premium Efficiency IE5 Design Envelope Permanent Magnet motors provide up to 40% additional savings​ compared to booster systems with Premium efficiency NEMA motors with integrated drives.
Brent Ross, Director, Configured and Standard Building Products with Armstrong comments, "With Design Envelope Permanent Magnet motors and Booster Manager, these new Design Envelope 6800 Booster Systems provide tremendous value for customers through a combination of energy savings and increased reliability."
About Armstrong Fluid Technology
With over 1200 employees worldwide, operating seven manufacturing facilities on four continents, Armstrong Fluid Technology is known as an innovator in the design, engineering and manufacturing of intelligent fluid flow equipment, control solutions and digital technologies such as Design Envelope. With expertise in demand-based control, digitalization, fluid flow, and heat transfer, Armstrong Fluid Technology leads the fluid systems industry, including HVAC, plumbing, gas transmission and fire safety, providing the most energy-efficient and cost-effective solutions to building and facility professionals around the world.
Armstrong Fluid Technology is committed to sustainability. In 2018, the company launched its 2 by 22 initiative, a program that aims to reduce Greenhouse Gas emissions among customers by 2 million tons by the year 2022. In 2019, Armstrong signed the Net Zero Carbon Buildings Commitment, a program launched by the World Green Building Council. As a signatory to the program, Armstrong has pledged to ensure that all its offices and manufacturing facilities will operate at net-zero carbon by the year 2030.
Also Seen On