5 Winning Strategies for HVAC Installations that Need to Expand Over Time
A large number of HVAC projects need to expand incrementally, rather than demanding full capacity from Day 1.
For example, district energy schemes are rolled-out gradually, linking additional pump houses to the network over a period of years. And data centre business models rely on establishing new facilities with plenty of excess processing capability, which can build up to full capacity.
HVAC designers have a choice:
Option 1: Design for full capacity from the outset (knowing that the building occupant will have to live with the inevitable low levels of energy efficiency associated with oversized equipment).
Or …..
Option 2: Design a scalable solution, which eliminates energy wastage by enabling supply to increase in line with growing demand.
If you're going for Option 2, here are 5 tried and tested ways to ensure that your installation can scale up successfully, without wasting energy and creating unnecessary carbon emissions.
Tip 1 – Make sure you have demand-based control
Traditional capacity-based approaches to control, designed around independent control loops, are not capable of delivering the levels of efficiency required for projects that will be scaled-up over time. However, demand based control methodologies such as Hartman LOOP™ digital relational control, can optimise energy efficiency across the range of demands experienced by the system– from early low demand scenarios right through to full building load.
Digital relational control does this by treating the entire system 'holistically', rather than as individual sub-systems. Key energy consuming components, such as Armstrong Design Envelope pumps, can be sequenced to operate along their peak efficiency natural curve for all load conditions. In addition, Hartman LOOP can calculate and determine the best power relationships between the chiller, condenser pump and tower fan. As well as ensuring the efficiency of individual components, this optimises power relationships across the system, with equipment loading in one device traded off to pick up more load on another. This achieves the same net kWc for a lower kW input (a COP of greater than 7.0 compared to previous averages of between 3.2 and 2.2).
By specifying Armstrong IPS4000 Pump Controller as part of your installation, you can ensure that these levels of optimisation are delivered automatically (using an off-the-shelf product) ensuring best possible efficiencies (without complex and expensive bespoke BMS programming).
Tip 2 - Make it modular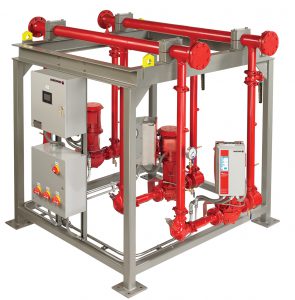 Armstrong's Intelligent Fluid Management System (iFMS)
Design the installation to be modular, from the outset. This enables additional heating or cooling capacity to be 'bolted on', as part of a predetermined strategy, in line with increasing demand. Modular packaged pump solutions (like the Armstrong iFMS) are ideal, as they are pre-designed, off-site manufactured pump packages that are fully-configurable to suit the application.
Tip 3 – Make it repeatable
When specifying modular equipment, make sure that you remove as many variables as possible. Avoid bespoke solutions, where final performance may be difficult to predict with accuracy. Look for solutions like the Armstrong iFMS which has the repeatability of being an off-the-shelf, tried and tested product, but also offers full configurability, to enable you to meet the specific requirements of the project.
Tip 4: Go for a wider operating envelope
When specifying individual components for your installation, look for solutions which deliver energy efficient performance across a wider operating envelope. Armstrong Design Envelope pumps, for example, can provide outstanding energy efficiency capabilities over a wider operational range than other pumps. So as operational requirements change a single pump model can still continue to meet them, either during the design process or after installation, without the risk of under performance or the need for replacement.
Tip 5: Keep it 'real time'
An installation which is scaling-up over time needs a higher level of monitoring to ensure peace of mind. Armstrong's Pump Manager is the answer. Pump Manager is a web-based service that harnesses the embedded intelligence and connectivity of Design Envelope pumps to provide sustained performance and significantly enhance reliability. Delivered as a highly secure, cloud-based application, it provides real-time alerts and warnings – operators have immediate knowledge of challenges such as deadheading, cavitation, a broken coupling and excessive vibration – as well as providing comprehensive online trending and analysis across multiple parameters on single pumps or an aggregated basis for multiple pumps.
If you're planning a project that will involve scaling-up over time, get in touch to discuss how Armstrong's solutions can help.