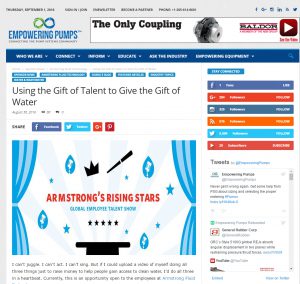 As Seen on empoweringpumps.com – August 30, 2016
I can't juggle. I can't act. I can't sing. But if I could upload a video of myself doing all three things just to raise money to help people gain access to clean water, I'd do all three in a heartbeat. Currently, this is an opportunity open to the employees at Armstrong Fluid Technology.
Armstrong Fluid Technology recently began their campaig
n for a global employee talent show, which invites their employees in the United States, Canada, UK, China, and India to submit videos of themselves showcasing their special talents. Every video submitted will be sponsored by one or more donors in an effort to raise money for WaterAid, which is a leading international NGO focused on increasing access to safe water and improving hygiene and sanitation for the world's poorest communities.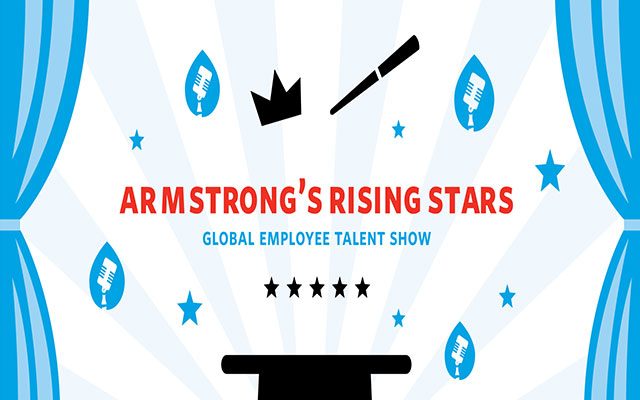 Once I heard about Armstrong's Rising Stars Global Employee Talent Show, I had to learn more! The people who know me understand my love for pumps and my own personal connection to providing clean water to people who need it. I spoke with Laura Morris, Global Communications Manager for Armstrong Fluid Technology, about their initiative to support WaterAid, which works in 27 countries across Africa, Asia, the Pacific region, and Central America.
"We chose a cause that resonates with the core values of our company," shares Morris. "Considering Armstrong's core competencies in fluid flow and building products as well as our commitment to global sustainability and energy efficiency, selecting WaterAid was an easy choice to make."
Not only do I love the fact that Armstrong's employees are raising money for a charity that has spent the past 35 years providing over 17 million people with access to safe water, I LOVE the fact that Armstrong is using digital media to do it.
Using digital media, Armstrong's employees around the globe are capturing and submitting videos of their unique talents between August 15th and October 15th. Once all the submissions have been received, Armstrong will engage their international team members by posting a poll that will allow every employee to vote for their favorite video. Online voting will determine several winners of the Armstrong Rising Stars Global Employee Talent Show. The Grand Prize Winner will be the person that gets the most votes, and there will be other prizes awarded for different categories, such as one for raising the most donations, and a random drawing for all employees who raised money to submit their videos.
I want to personally 'Congratulate' Armstrong for their effort to raise money for an important cause and applaud them for their use of digital media to have a positive impact on the lives of others.
To learn more about Armstrong, and its commitment to saving energy through innovative Design Envelope HVAC products, visit www.armstrongfluidtechnology.com.
To learn how you can support WaterAid, visit www.wateraid.org.
Also seen on: