As seen on acrjournal – March 03, 2017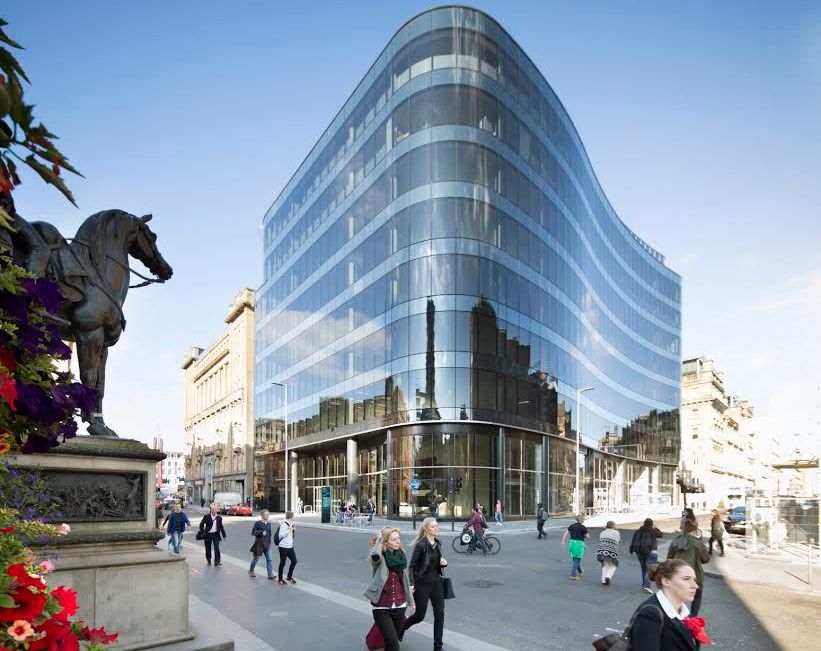 Shane Leather, Business Development Manager – Tall Buildings at Armstrong Fluid Technology, looks at energy efficiency strategies for large-scale HVAC installations.
When designing large-scale HVAC installations, the stakes are high. Even seemingly minor design decisions can have major implications when the resulting energy savings (or indeed energy wastage) are scaled up across a large multi-storey building. Achieving outstanding levels of energy efficiency is far from easy in these large-scale projects, however. The challenges fall into a number of categories:
Architectural: The aesthetic visions for prestigious commercial buildings of this type often involve the inclusion of innovative architectural features which require careful planning from the viewpoint of HVAC, for example glass facades which need to be considered in terms of solar gain.
Environmental: Architects often aspire to BREEAM Outstanding or Excellent ratings for buildings of this type, incorporating elements of on-site generation, and exploiting natural light. Integration of these renewable energy sources needs careful consideration to ensure that the highly specific operating requirements of the zero carbon components do not undermine the efficiency of traditional high efficiency, low carbon parts of the HVAC system.
Commercial: Comfort conditions must contribute to the productivity of building occupants, providing the ideal environment for concentration, communication and creative thinking. There is zero tolerance for equipment failure or operation outside the designated parameters.
High cooling demands: The IT-intensive nature of modern office premises drives up the demands for cooling. Generation of heat is an unavoidable outcome of electrical resistance within IT processors. As processors become more powerful, it is inevitable that cooling demand will rise (typically increasing by 25% to 30% annually in IT-intensive facilities). HVAC design needs to futureproof the building in the face of escalating demand for cooling.
Adhering to a number of key design priorities, however, will ensure that energy efficiency is not sacrificed in the process of scaling-up.
Best practice approaches
It is essential, first of all, to ensure that variable speed capability is exploited to the full. Variable speed pumps, for example, are frequently under-utilised because they are controlled and staged in ways which prevent them from delivering their potential energy and cost savings.
If a variable frequency drive is added to a compressor, pump or fan, there is huge potential to improve part-load efficiency due to the pump fan laws (power is proportional to rotary speed cubed - P a N3. If a rotating device is allowed the flexibility to operate along its Natural Curve this can increase operating efficiency by 400%. These efficiency improvements can only be achieved, however, if the pump fan law relationship between pressure and rotary speed, along the Natural Curve, is maintained at the decreased speed.
In the case of pumps, for example, a common scenario is that a fixed or minimum differential pressure is maintained across the pump supply and return headers.
This means the pump will not have the freedom to operate along its Natural Curve and will, consequently, consume more energy.
An effective alternative is to employ advanced integrated control (such as that resident in the Armstrong IVS DE pump) to ensure that pumps, in addition to other variable speed devices, are operated automatically along their Natural Curves to optimise efficiency.
Secondly, it is important to ensure that key energy consuming system components such as pumps, boilers and chillers are staged effectively to manage varying demand throughout the day and night. For the majority of the time, for example, pumps are operating at between 15% and 75% of capacity. Very few hours are spent at over 80% capacity.
In addition to specifying components effectively (employing demand-based rather than capacity-based selection criteria), it is also crucial to stage these key energy-consuming devices in an out to deliver maximum reductions in lifetime cost. The approaches used in the past are rarely suitable for the latest generation of variable speed equipment. For example, typical industry pump staging scenarios involve turning on the next pump when the existing or current pumps reach 95% of maximum speed. Pumps are typically staged-off when the existing or current pumps slow down to 55% of maximum speed. Both of these scenarios (staging pumps on too late, and off too early) involve lost efficiency. In large-scale HVAC installations, these individual areas of energy wastage are scaled-up, representing significant reductions in environmental performance over the lifetime of the plant.
By contrast, adopting efficiency-based staging points (as opposed to staging points based on pump speed) avoids these lost efficiencies. Throughout the day the system "surfs" across the top of the efficiency curves. This improved strategy for staging pumps can achieve energy savings of over 30%.
Lastly, where HVAC design projects are large-scale and complicated, it is all too easy to overlook more obvious energy-saving opportunities. Pumps for booster systems, for example, are often specified based on peak flow rate (a condition that may occur for only a short period of the day). As a result, for the majority of the day, pressure boosters are over-pumping, consuming unnecessary amounts of energy. An easy fix is to install variable speed booster sets capable of adjusting to steep changes in load profile. These booster packages, used with Variable Frequency Drives, provide constant pressure regulation without the significant energy losses associated with pressure-reducing valves.
As tenders for major commercial projects frequently involve analysis of lifetime costs, applying these design approaches can make all the difference between winning or losing the contract. Energy savings of around 30% throughout the lifetime of a multi-storey building is, after all, a compelling sales argument – especially when the difference in capital cost is minimal (or even less than for a more traditional specification).
Don't forget, however, that further commercial advantages can be made possible through off-site manufacture of the HVAC plant. Large-scale HVAC installations typically involve high profile construction projects in busy, urban centres, being delivered by extensive supply chains. Communication between parties, access, health and safety risk, traffic, and scheduling, provide significant challenges. Off-site manufacture can resolve many of these issues, streamlining projects, removing the risk of bottlenecks and reducing risk.
When providing the HVAC systems for the CONNECT11ONS project at 110 Queen Street, Glasgow, for example, BAM decided that off-site manufacture would have particular benefits. As the site is in one of the busiest parts of Glasgow, off-site manufacture of the plantroom meant that contractor traffic relating to this aspect of the project could be minimised, reducing health and safety risk and easing disruption in the immediate vicinity.
Off-site manufacture also meant that assembly of the plantroom could be carried out concurrently with the construction phase of the building, rather than having to wait until the building was completed before it could begin. A fully integrated packaged plantroom for heating and air conditioning of the new building was off-site manufactured by Armstrong Fluid Technology at its factory, speeding installation and reducing traffic at this busy city centre site.

There is a line of argument that says large-scale HVAC projects can mean larger-than-average problems. It can also be argued, though, that with the right design approaches, it is possible to offer the customer larger-than-average financial and environmental advantages. That, at the end of the day, adds up to a larger-than-average chance of winning the tender.