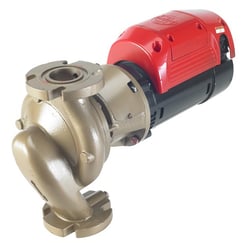 Armstrong has announced that its permanently lubricated, maintenance-free (MF) S&H circulators are now available with ECM motors and new EPDM seals.
These new enhancements make Armstrong S&H circulators as much as 20% more efficient. The S&H circulators also offer a significantly expanded temperature range.
Because the S&H MF circulators eliminate the need for oiling, they reduce maintenance requirements, saving building owners time and money.
Other key features of the S&H circulators include:
On-board user interface that supports precise flow control
ECM motors that can accept 0 – 10 V DC input, providing the option for external speed control through leading BAS/BMS offerings
Manual speed adjustment supports energy savings where the system allows
Modular 3-piece design includes a universal shaft and bearing module that fits 12 circulator sizes. Standardization of the module size makes repair and replacement easy