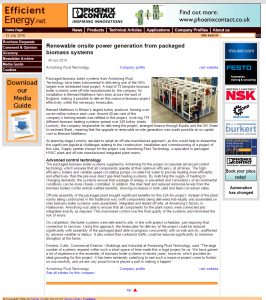 As seen on efficientenergy.net – July 08, 2016
Packaged biomass boiler systems from Armstrong Fluid Technology have been instrumental in delivering one of the UK's largest ever distributed heat project. A total of 72 bespoke biomass boiler systems were off-site manufactured by the company for installation in Bernard Matthews farm sites across the east of England, making it possible to deliver this massive biomass project effectively within the necessary timescales.
Bernard Matthews is Britain's largest turkey producer, farming over seven million turkeys each year. Around 40 per cent of the company's farming estate was refitted in this project, involving 179 different biomass heating systems spread over 248 turkey sheds. Lumicity, the company responsible for delivering the project, arranged finance through Equitix and the UK Green Investment Bank, meaning that the upgrade to renewable on-site generation was made possible at no capital cost to Bernard Matthews.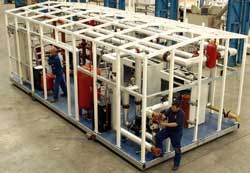 At planning stage Lumicity decided to adopt an off-site manufacture approach, as this would help to streamline the significant logistical challenges relating to the construction, installation and commissioning of a project of this size. Supply partner chosen for the project was Armstrong Fluid Technology, a specialist in packaged HVAC plant and off-site manufactured integrated plant rooms.
Advanced control technology
The packaged biomass boiler systems supplied by Armstrong for the project incorporate advanced control technology which ensures that all components operate at their optimum efficiency at all times. The high-efficiency boilers and variable speed circulating pumps circulate hot water to provide heating more efficiently and effectively than the previous direct gas-fired heating systems. By matching the supply of heating to changing demands, the systems ensure that wastage of energy is prevented and consistency of environmental conditions can be more closely controlled. In addition, the drier heat and reduced ammonia levels from the biomass boilers confer animal welfare benefits, showing increases in both yield and feed conversion rates.
Off-site assembly of the packaged plant brought significant benefits for this £24.5m project. Instead of the plant rooms being constructed in the traditional way (with components being delivered individually and assembled on site) biomass boiler systems were assembled, integrated and tested off-site, at Armstrong's factory in Halesowen. Armstrong was able to ensure that all components for the plant rooms were connected and integrated exactly as required. This maximised control over the final quality of the systems and minimised the risk of errors.
On completion, the boiler systems were delivered to site, in line with project schedules, just requiring final connection to services. Using this approach, the timescales for delivery of the project could be reduced significantly with assembly of the packaged plant able to progress concurrently with on-site activity, unaffected by adverse weather or delays. It also meant that contractor traffic could be reduced significantly to minimise disruption at the farms.
Dominic Cutts, Commercial Director – Buildings and Industrial at Armstrong Fluid Technology, said: "The large number of systems required within such a short space of time made this a huge project for us. We have gained a lot of experience in the assembly of biomass boiler systems in recent years, however, which provided an ideal grounding for this project. It has been extremely satisfying to see such a massive project come to fruition so successfully, and we are very proud to have played a part in making it happen."
Also seen in: