As Seen On: meconstructionnews.com - June 10, 2021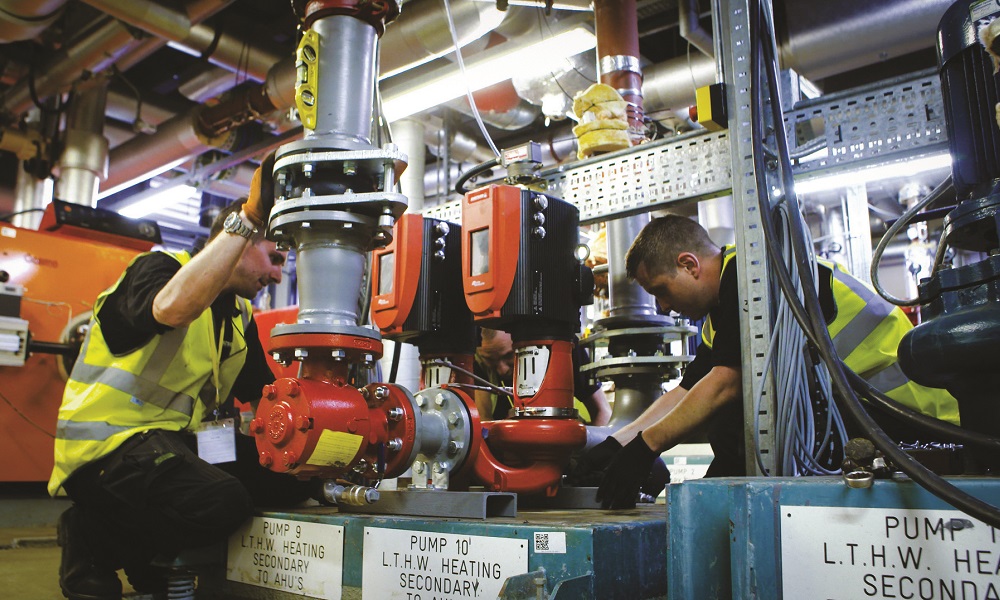 Kevin Laidler, MEA sales director for Armstrong Fluid Technology, says that energy-efficient upgrades for HVAC systems are vital to creating safer, stronger and more sustainable spaces in our cities
Building facilities represent a major portion of energy consumption in the built environment, responsible for about 40% of all energy usage, and a similar proportion of greenhouse gas emissions.
As our cities continue to grow, so does the carbon footprint of our buildings. Fortunately, however, governments and industry leaders are now placing sustainability at the heart of initiatives for urban development, helping mitigate the environmental impact of building projects.
In the Middle East region in particular, sustainability is the driving force behind plans for urban development. The Dubai Master Plan 2040, for example, outlines efforts to make Dubai one of the greenest cities in the world through transformations in construction, transportation, and infrastructure.
Every building has a role to play in supporting sustainable development, and the performance of HVAC systems is key to determining the environmental impact of a building, since they account for about 35% of total building energy consumption.
As we work towards the 'greening' of our cities, the integration of sustainable practices into the construction industry is no longer a value-added benefit, but rather a requirement for projects to gain acceptance and succeed.
Energy management is one such practice, which is vital to the building services industry. Energy management involves proactive performance tracking, management, and optimization of energy consumption in a building, all with the intent of optimizing energy efficiency. Energy management focuses on delivering energy upgrades that minimise lifecycle carbon footprint, improve occupant comfort and lower installation and operation costs.
For HVAC systems, approximately 5% of their lifetime carbon footprint can be traced to the manufacturing of components. The other 95% comes from energy usage during the operating life of the equipment. Clearly, the greatest opportunity for carbon footprint reduction lies in improving performance deficiencies.
One challenge we face in managing HVAC systems is 'performance drift'. When first installed, and even in the first few months, HVAC systems operate immaculately. Over time, however, for a variety of reasons, component efficiency and system conditions 'drift' away from the original levels of performance.
Performance drift ultimately leads to energy waste, higher operating costs, and more greenhouse gas emissions. As performance continues to drift, the changes may also result in reduced comfort for occupants.
Traditionally, HVAC systems have been designed as an assembly of independent components with limited connectivity and performance monitoring technology. This design approach exacerbates the effects of performance drift.
In the last decade, technology for HVAC pumps has been transformed to deliver effective energy upgrades and provide up to 70% savings.
The introduction of demand-based operations, for example, ensures energy is only consumed as required. The use of parallel sensorless pumping technology enables the pump to respond automatically to system load based on efficiency staging.
These innovations allow pumps to operate at optimum levels and consume energy only on a need-based basis. By consuming energy more intelligently, we can reduce our consumption of fossil fuels and consequently, lower greenhouse gas emissions.
Another key innovation to preserve energy efficiency is Active Performance Management services. This combination of digital capabilities and services relies on cloud-based technology and embedded intelligence to optimise the efficiency of HVAC systems.
Active Performance Management provides real-time and historical data to deliver an accurate system performance analysis and directly demonstrate efficiency and savings. With the advent of sensorless variable speed control, the industry has come to understand that intelligent pumps are highly accurate flow meters that provide valuable insights for building managers and operators.
Data from connected pumps can be used to maintain energy efficiency and manage operating costs through sustained, optimised performance.
Adding Active Performance Management capabilities to your HVAC systems is beneficial for preventing, and even reversing, the loss of system efficiency. Without the ability to analyse data, buildings managers and operators cannot effectively optimise mechanical systems. The software also helps to create safer and more comfortable indoor environments by enabling predictive maintenance. Systems can provide alerts when they detect issues, allowing for early detection to prevent system failures or disruptions.
The reason building operators may hesitate to upgrade is because more sophisticated systems require investment. However, the returns from using more efficient systems are impressive. Simple payback on energy upgrade projects is usually reached within three to five years.
Furthermore, the energy savings continue for the life of the system. Properly executed energy upgrades deliver up to 40% savings on energy consumption related to HVAC operation.
If we embrace innovative energy saving solutions in the building services industry, then we can begin to make a difference. Currently, we are experiencing a global shift towards sustainable building construction. As green building legislation becomes increasingly prevalent, mandatory energy reporting seems inevitable. Employing systems with the in-built capability to optimise energy efficiency is extremely beneficial for creating indoor spaces will that support occupants and our planet for generations to come.
Also Seen On