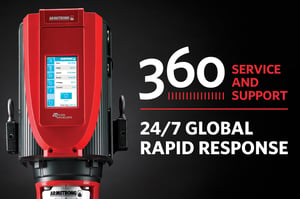 We're very proud to announce a new 360 Service and Support program that is now available to our customers, on a 24-hour basis, 7 days a week.
The program draws on four key strengths within the Armstrong network:
Consultative Support for Solution Design
Supply Chain and Logistics Support
Project Advocacy for access to status information
Technical Service Support for rapid response support services
A key aspect of providing 360 Service and Support is a 24/7 Emergency Response Network, supported by Armstrong's global network which includes representatives, technical service partners, suppliers and logistics service providers.
Quick and professional service makes a big difference to customers. A good example of this can be found in a recent service call at a large datacenter. The customer experienced some efficiency problems in their cooling system. Armstrong Service Techs travelled to the site, found the source of the problem - inadvertent changes to on-site controls – and corrected it quickly. Critical cooling efficiency was restored, and the datacenter servers continued to operate as normal.
Information about the 360 Service and Support program is available at www.armstrongfluidtechnology.com/360serviceandsupport.