As Seen on nationalpumpsupply.com – November 21, 2017
Why choose Armstrong 4360 Pump-In-A Box?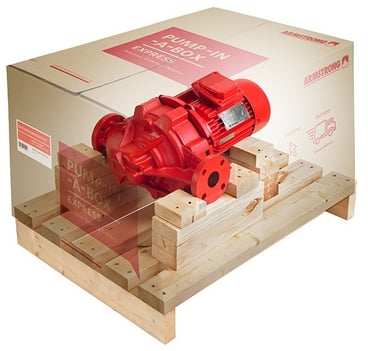 Armstrong Fluid Technology is one of the leading development fluid-slow solutions. The company has developed itself around products mainly for customers in commercial, residential and industrial arcades.
Armstrong manufactures hydraulic equipment for the above-discussed arcades and applications. They manufacture equipment such as pumps, controls, motors, and some parts are even renowned, for longevity. And their additional product offer equipment such mainly for commercial purposes such as valves, fittings, suction, pressure booster systems, and so on.
They even offer several types of valves in order to foil their centrifugal pump lines, which include circuit balancing valves and Flo-Trex triple duty valves. Apart from valves, Armstrong fluid technology provides a wide range of suction diffusers in a multiplicity of sizes, especially, for HVAC systems, and industrial pumping. These suction diffusers come with a multi-function pump fittings which provides a 90° elbow, guide vanes, and an in-line strainer.
Installation
In-line pumps eliminate the need for inertia bases and springs.
Pipe stools with isolating vibrating pads are installed under each leg of the pipe such as flexible pipe connectors, field grouting, and alignment.
Maintenance
The mechanical seal acts as the critical service object in a pump, and removal of series such as series 4300, 4360 allows all mechanical seat components to be withdrawn easily for servicing and resulting in an additional space between the pump and motor shafts. Space does not disturb the other pump components or motor connection.
Reliability
Re-installing the rigid coupling brings back the unit rotating assembly to all the factory alignment specifications.
Flexibility
They have a small footprint.
Comes with low installation costs.
Are reliable
And easy to maintain and control
The Armstrong pump comes in numerous series:
Such as:-
• Armstrong 4380 Pump-In-A-Box
• Armstrong 4360 Pump-In-A-Box
Armstrong PiB model
This series is built around with the finest quality and surpassed performance. It fulfills all the expectation from Armstrong commercial pumps. The model of this series are packaged primarily for warehouse distribution, which is shipped within 48 hours of the order date.
The PiB model includes 4360, 4380 and 4380 IVS vertical in-line pump series, which is available with a wide range of head and flow requirement and a selective range of impeller, motor combinations, and covers.
Key features of the PiB model-
Available for shipping in 48 Hours.
The curves are pre-designed, which enhances its performance.
Lightweight can be shipped by UPS or truck.
Armstrong 4360 pump-in-a-box
Armstrong 4360 pump in a box comes with PiB model. It is branded by the HVAC system pumping, light industrial pumping process, which is basically water or glycol based.
Armstrong 4350 pump-in-a-box is a commercial pump.
Description
The Armstrong 4360 pumps are generally designed for space-saving installation, which is available for express shipment, usually within 48 hours.
The Armstrong 4360 pumps are fortified with high-efficiency NEMA-premium motors, which further helps in reducing energy consumed or cost.
Sustainability
These 4360 Armstrong pumps have a low operating risk.
Can be shipped typically within 24 hours.
Comes with the universal replacement seals.
Materials
The Armstrong 4360 consists of the following materials-
Cast-iron.
The ductile iron casing.
Bronze impeller.
Configuration
The Armstrong 4360 pumps come with a single spring mechanical seal installed inside, with an average performance range of up to 175 USgpm (11 L/s) flow and up to 90 ft (27 m) head.
Temperature
The temperature built around the Armstrong 4360 is 225°F or 107°C. With a power range of 0.5 hp to 3 hp or 0.37 kW to 2.2 kW.
Size
In size, the Armstrong 4350 is 1.25" to 3" or 32 mm to 80 mm.
Other features:-
Eliminates the cost and burden involved in a complete set of piping and fittings.
Even comes with a standby or two pumps parallel, which reduces the operation burden.
The complete pump can be easily removed from the line as and when required.
The mechanical seal fitted inside the pump can be served without breaking pipe connections.
The flush and vent connection present in the pump removes all the unwanted air and ensures a constant flow of liquid to the seal face.
Does not include much of maintenance and serving problems which arise mainly due to bearing free pump design.
Typical applications
Pre-installed cooling and heating system.
Comes with pressure boosting system.
Typical stipulations
Type of pump- Vertical In-Line.
Maximum working pressure- 175 psi at 140°F.
Maximum working temperature- 225°F or 107°C.
End Connections- ANSI 125 Flanges or NPT with companion Flanges.
Primary Seal- Armstrong Type 21A mechanical inside unbalanced.
Maximum flow- 725 USgpm (45.7 L/s).
Maximum head- 95 ft (29 m).
Motor efficiency- Standard.