As Seen on modernequipmentmanufacturer.com - June 19, 2019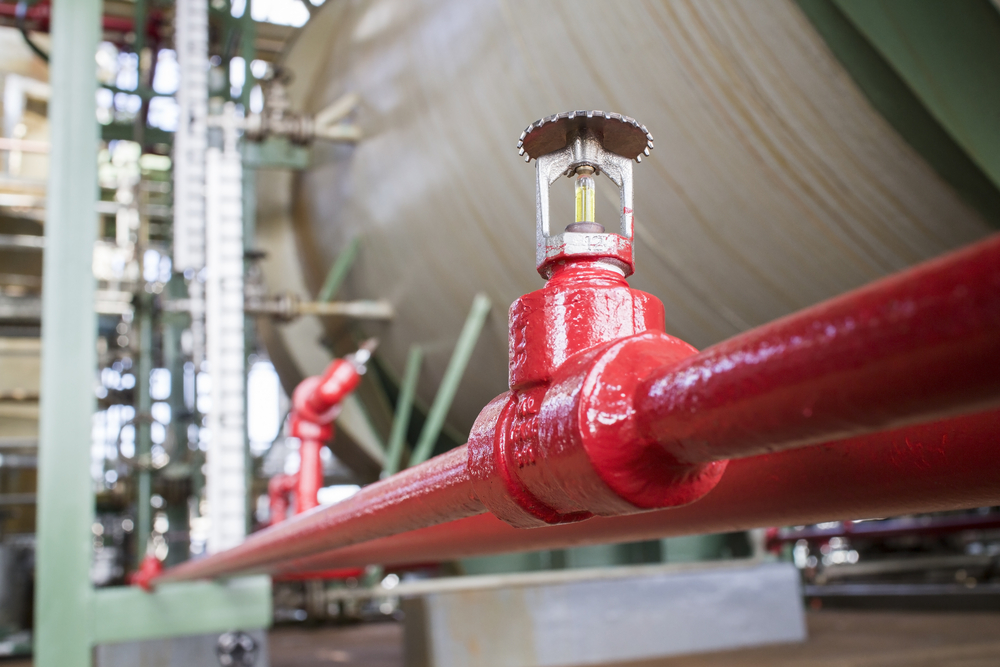 This week marks the beginning of the annual National Fire Protection Association (NFPA) Conference and Expo. This means that the world's leading fire safety experts – as well as the most innovative fire protection solutions providers – have descended on San Antonio to discuss fire codes and regulations, share best practices and discuss the trends and technologies that are helping to make people safer at home and on the job.
The Modern Equipment Manufacturer is speaking with some of the experts and companies that will be participating in this year's conference to learn more about how fire protection is evolving and the new technologies that are being introduced to the next generation of fire protection equipment. And the timing couldn't be better.
What we've heard from many of the individuals that we've spoken to in advance of and during the conference is that the fire protection industry is a highly regulated one that is traditionally slow to embrace innovation. Regional fire codes and regulations dictate what fire protection equipment can and can't do. Rigorous testing is essential before any new capabilities or technologies are allowed. And it's understandable – lives are truly on the line.
But we're rapidly reaching an inflection point. The benefits of smarter, more connected fire protection solutions are becoming too numerous to ignore, and the individuals that influence and dictate fire codes and regulations are starting to take notice. This could lead to an influx of innovation in the marketplace, and a host of new capabilities being introduced to fire protection equipment – from fire panels to suppression systems.
In fact, we recently had the opportunity to sit down with one of the companies that's poised to introduce some incredibly innovative new solutions to the marketplace – Armstrong Fluid Technology.
Armstrong is a manufacturer of fire protection pumps that work to ensure sprinkler systems and hydrants have the water they need when there is an emergency situation. And, according to Steven Baird, the company's fire protection product marketing manager, these solutions could be about to get much smarter. Here is what he had to say:
Modern Equipment Manufacturer (MEM): Can you tell our readers a bit about Armstrong Fluid Technology? What types of solutions does the company offer? What fire protection solutions does the company sell?
Steven Baird: Armstrong Fluid Technology was established in 1934 and is in its third generation of ownership by the Armstrong family. It remains a family-owned and operated business. However, it's grown into a global entity with more than 1100 employees across the world. Today, the company maintains manufacturing facilities in Canada, the United States, Brazil, the United Kingdom, India and China and has sales offices in other parts of the globe, as well.
Our solution offerings have evolved over the years, but, at our heart, we're a fluid technology solutions company. Our primary solutions are our pump solutions, including our HVAC line of pumps that utilizes variable speed technology that enables users to cut energy and operating costs. We also offer heat exchangers, circulator pumps for residential implementations and fire protection technologies, as well as controls and HVAC packaged solutions.
In the fire protection market, we offer a full range of pumps and controls, as well as all of the accessories needed to build a complete fire pump solution. Our solutions are effectively water-based fire protection solutions that take the form of sprinkler or hydrant applications. Our solutions ensure that there is an adequate water supply in those sprinkler and hydrant systems in an event of an emergency.
MEM: What differentiates Armstrong fire protection and fire pump solutions from others in the marketplace?
Steven Baird: Fire protection solutions face very strict regulations and codes, so there are a lot of similarities between the solutions that are available on the market. What Armstrong does differently is focus on package solutions. These enable us to provide additional value in fire protection by supplying complete solutions that meet regional fire codes and regulations.
In the past, when someone was installing a fire protection and suppression system, they were purchasing loose components that then had to be assembled on site and connected. They would get the pump, and the controller and the requisite accessories separately. Then, it would be the responsibility of someone on site to ensure that all of the parts were there, that they could interoperate and that all of the valving and piping was installed to meet code requirements.
Package solutions change all of that. Armstrong brings the piping and valving into our facility and sets up the fire protection system on its base. The company does all of the wiring from the controller back to the fire pump and installs the sensing and testing lines. With all of those components in place on a single base, the customer only has to put the solution in place, connect suction and discharge piping and bring power to the controllers. This can cut the time to install by up to 80 percent, and drastically reduce the cost of an installation. It also saves space, since the company works to optimize the solution into the smallest footprint possible.
Another large differentiator for us is our variable speed solutions for fire protection. Armstrong has leveraged variable speed pumps in its HVAC solutions for about 15 years, and we're now starting to utilize those technologies in our fire protection solutions to make fire pumps more cost effective and capable.
This is especially useful in high-rise buildings and large facilities. In these implementations, you need to meet certain pressure requirements at the furthest-most sprinkler fixture – which is generally on the top floor at the end of one of the branch lines.
In most jurisdictions, you have to meet 100 PSI of pressure at all fixtures – even the ones furthest from the pump. To make that possible, building owners have to generate more pressure at the pump. Unfortunately, this generates higher-than necessary pressure at the sprinkler fixtures on the lower floors, closer to the pump. To correct this, the building owner installs pressure regulating valves on the lower fixtures to ensure that they're not damaging them by trying to meet the minimum pressure requirements at the top of the building. Unfortunately, each pressure regulating valve can have an installed cost up to $1,500.
The variable speed pumps in fire protection systems can regulate their pressure to accommodate flow and suction, making them capable of meeting the minimum pressure requirements on higher floors without spiking the pressure on lower ones. This drastically reduces the amount of floors on which building owners need to install pressure regulating valves – sometimes by as many as nine or ten floors. When you consider the initial cost of those valves and the cost to maintain and test them, this can generate enormous savings to the building owner over the life of the system.
MEM: Armstrong talks about automation, cloud-enablement and optimization in regard to its HVAC solutions. Is the company working to automate and cloud-enable its fire protection solutions? What benefits will this deliver to customers?
Steven Baird: At Armstrong, we have a lot of experience with cloud-enabled and connected devices because of our HVAC solution portfolio, and we're looking to actively bring that functionality from the HVAC solutions into the fire protection solutions. We're still exploring exactly which components will work best in the fire protection industry, but we already have that infrastructure built out.
In the near future we're going to cloud-enable the control cards that are built into these pumps and package solutions so that we can gather the data that the unit produces and send it to our cloud-based analytics solutions where applications will analyze it in the background. Using these applications, we'll be able to generate actionable intelligence and insights for our customers. They'll know when their pumps are running, they'll know when they're testing and they'll even be able to see the results of that testing all from the pump unit, itself.
We're also looking to pull in some advanced functionality from the HVAC world to enable proactive and preventative maintenance. We'll be able to monitor a pump and see when something might be going wrong. We'll know in advance if maintenance may be required, and we'll be able to act accordingly to prevent costly problems and downtime.
This is one of the things that we'll be demonstrating at NFPA this year. We'll be demonstrating some of the capabilities that are built into our new units and what types of data the equipment owner can generate and access from the equipment's operation and testing.
This is an exciting advancement that we call "active performance management," and it really is revolutionary for users. Instead of waiting for people to come and look at the equipment and harvest the data, it pushes it right to the equipment owner and sends them notifications if something is wrong.
MEM: What about Armstrong, itself? Will the company benefit in any way by cloud-enabling their solutions?
Steven Baird: As we build up the database of the pumps in the field, we – as the equipment manufacturer – are going to be able to benefit from cloud-enabling the equipment as well. We'll be able to analyze the data across these systems to identify the warning signs of a system failure or problem. This will enable us to better serve our customers and more proactively service our installed devices, since we'll see the signs of trouble in advance.
This could even open the door for us to sell service contracts to our customers that will involve us proactively and preemptively servicing our devices before they become a problem on-site.
The data that we generate and harvest could also help us with future product development and design. We'll look at different things that we can do to improve our offerings. Are there specific data points that customers are requesting? Is there specific information that they're looking to generate? We can identify that and work to make our solutions more user friendly and more informative for the people that are using them.
MEM: The annual NFPA Conference is going on right now. What overarching themes and new technologies will dominate this year's event?
Steven Baird: There are numerous sessions at this year's show focused around connectivity, and I truly believe that will be one of the largest trends that we see moving forward in the industry.
There are so many benefits coming from these new technologies and the new connectivity of these devices. This is a very conservative industry – they adopt new technologies slowly to ensure that they don't compromise the safety and security of buildings and people.
However, we have to embrace these new technologies because the benefits are just too numerous to ignore. We have to do it cautiously and deliberately – but we have to do it to protect people.
MEM: Is Armstrong making any exciting announcements or introducing any exciting new products at this year's conference?
Steven Baird: There are two main things that Armstrong is focusing on at this year's NFPA. The first is the introduction of the variable speed technology in fire protection solutions.
We're going to have a prototype of our self-regulating variable speed fire pump unit there, at our booth, for people to look at and interact with. We'll also have multiple displays and demonstrations focused on that technology and its benefits. That's important since many in the industry still aren't aware of what variable speed fire pumps can do for them, and how they could utilize the data that they generate.
The other main focus for us at this year's show is our package units. We're demonstrating to NFPA attendees how package units can reduce the risk from on-site assembly and installation while reducing the total cost and time necessary for a fire protection system installation. We'll actually have a small package unit on the floor for people to see and interact with.
We're also going to be showcasing a few prototypes of our new pump solutions.
For additional information about Armstrong Fluid Technology and its announcements at NFPA, click HERE.
As Seen On: