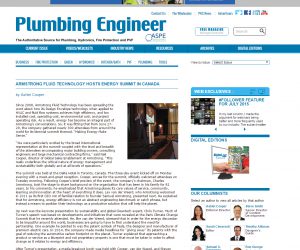 As Seen on plumbingengineer.com – August, 2016
Since 2008, Armstrong Fluid Technology has been spreading the word about how its Design Envelope technology when applied to HVAC and fluid flow systems achieves high efficiency, and low installed cost, operating cost, environmental cost, and project operating risk. As a result, energy has become an integral part of Armstrong's conversations. So, it was fitting that from June 27-29, the company gathered nearly 300 attendees from around the world for its biennial summit themed, "Making Energy Make Sense."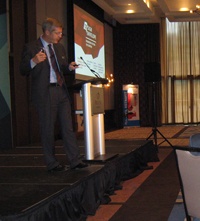 "We were particularly excited by the broad international representation at the summit coupled with the level and breadth of the attendees encompassing major building owners, consulting engineers and large mechanical contracting firms," said Neil Cooper, director of Global Sales Enablement at Armstrong. "This really underlines the critical nature of energy management and sustainability both globally and at all levels of operations."
The summit was held at the Delta Hotel in Toronto, Canada. The three-day event kicked off on Monday evening with a meet-and-greet reception. Cooper, emcee for the summit, officially welcomed attendees on Tuesday morning. Following Cooper's brief preview of the event, the company's chairman, Charles Armstrong, took the stage to share background on the organization that has been in his family for 82 years. In his comments, he emphasized that Armstrong places its core values of service, community, learning and innovation at the heart of everything it does. Lex van der Weerd, who Armstrong welcomed in 2011 as its first CEO not of familial relation to founder Samuel Armstrong, presented next. He explained that for Armstrong, energy efficiency is not an abstract engineering benchmark or catch phrase, but instead a means to position their technology as a productive solution that will help the planet.
Up next was the keynote presentation by sustainability and global Cleantech expert, Chris Turner. Much of Turner's speech was based on developments and initiatives that were revealed at the Paris Climate Change Summit that he recently attended. He, like van der Weerd, stressed that in order for the energy discussion to be impactful around the world, businesses are going to have to first understand the need for partnership. One example he pointed to was the patent outlook of Tesla, the designer and manufacturer of premium electric cars. In 2014, the company made media headlines for "giving away" its patents with the goal of reducing the automotive carbon footprint on the planet. Turner explained that approaching a product or service as a blueprint and not proprietary property is one that must be taken in order to affect change as it relates to energy and efficiency.
After Turner's presentation, a media breakout lunch was held with Cooper, van der Weerd, and Steven Lane, manager of communications at Armstrong. A common theme at lunch was Internet of Things (IoT), as even Charles Armstrong's commented earlier in the day that IoT should not be viewed as "revolution but evolution." The company expressed to media that the industry can expect a major IoT-centric unveiling from them in early 2017. Following lunch, guided tours were offered for the mechanical room of the Delta Hotel, which features Armstrong pumps.
After the tours, the afternoon presentations began with a look at what energy experts and groups are doing in the Greater Toronto area. The first presenter, Paul Leitch, of the University of Toronto, talked about ways the campus has successfully established and met sustainability goals. Next, Bob Bach, P.E., of Sustainable Building Canada, a nonprofit organization, spoke on their work, making special reference to the Living Building Challenge model and its usefulness.
Following Bach, Armstrong team members took the stage again to showcase the energy work it has done to-date. Margaret Logan, of Armstrong's sustainability department, spoke on their Planet Proposition. The proposition is based on two objectives: 1.) the regional community and how it affects well-being, schools and community engagement, etc.; and 2.) the global environment as it relates to energy, waste and water reduction.
Next, Brent Ross and Peter Thomsen, of Armstrong's Building Systems Solutions team, discussed some of the company's current focuses for offerings, one being demand-based control. Both explained that when it comes to such technology, the industry must recalibrate how it thinks about retrofitting. Simply stated, software and hardware can be retrofitted. Ross and Thomsen pointed to how mobile phone companies frequently update application software in order to explain that the industry needs to focus on updating its technology every five years at minimum. To close the day, Armstrong invited attendees to a social at Real Sports Bar & Grill, a sprawling sports bar and restaurant that features 200 screens and TVs.
On the final day of the summit, Armstrong team members led deep dive presentations on Design Envelope and how it can be applied. There were seven case studies showcased to demonstrate the energy savings that the technology offers. The case studies presented showed an average of 28 percent energy savings for customers ranging from manufacturing facilities and data centers, to hospitals and automotive plants. After the final presentation, the Armstrong team bid attendees farewell and sent them off to a final treat of lunch.
"It was great to bring together so many people to share ideas and make connections," Lane said. "The interest level of the attendees clearly showed in the questions and conversations that took place after the presentations. People were intrigued and wanted to learn more. That was the real measure of success for the event."
Also seen on: