As Seen On: empoweringpumps.com June 6, 2020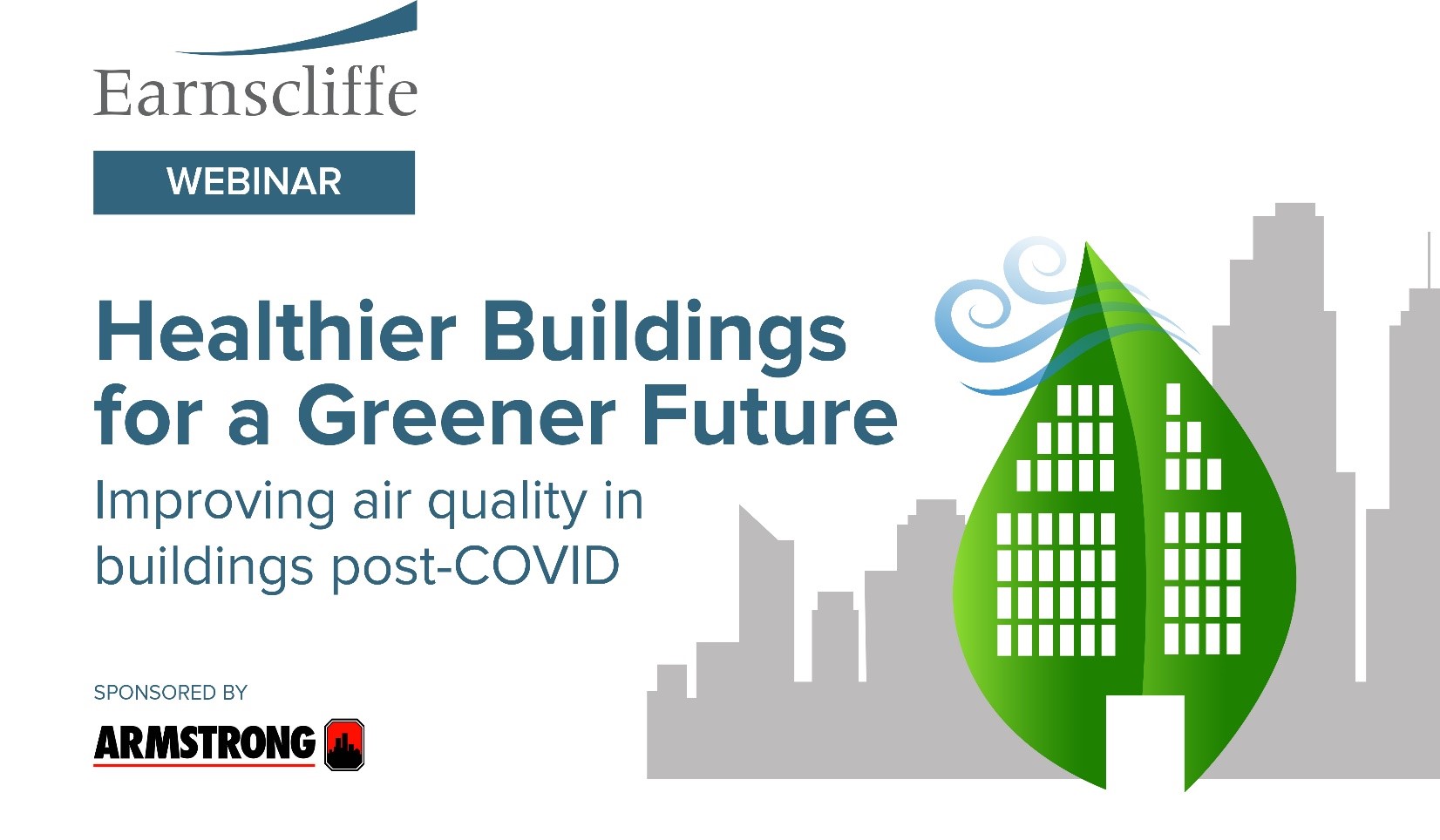 Armstrong has partnered with Earnscliffe to host a Virtual Summit on June 10th. Healthier Buildings for a Greener Future - Improving Air Quality in Buildings Post-COVID will focus on how building owners and operators can create healthy indoor spaces in the built environment. The content of the Summit discussions will include indoor air quality, sustainability, energy savings and occupant comfort.
Municipal, university, school and hospital buildings are referred to as the MUSH sector. Indoor air quality is a key issue, where poor air quality has been shown to affect not only the overall health, but also the cognitive abilities of occupants.
In the first session of the Summit, Earnscliffe Principal, Sarah Goldfeder, will lead a panel of to discuss indoor air quality and risk reduction in indoor spaces particularly within the MUSH sector. Risk Reduction in the MUSH Sector will be a panel discussion of four industry experts. Pratik Sharma, Global Director, Building Services and Performance Management, Armstrong Fluid Technology will represent the technology sector. Representing the MUSH Sector will be Tony Cupido, Mohawk College. Marta Schantz, Senior Vice President, Urban Land Institute will add a sustainability perspective, and Steve Kemp, Principal, Senior Energy and Sustainability Specialist, RDH Consulting will speak to the contributions of the engineering sector. The panel will discuss whether or not government should be providing further incentives to upgrade and retrofit buildings to ensure ventilation systems are operating at optimal capacity for clean air circulation to reduce risk.
The second section will focus more on the question of what solutions exist to help building owners and operators improve the health and sustainability of buildings. Are the current set of technologies available capable of reducing emissions in the built environment, and at the same time ensuring that occupants have a safe, healthy workplace? Earnscliffe Principal, Velma McColl, will lead a panel of healthy building advocates as well as technology providers to discuss the importance of retrofitting and greening government facilities for the health of occupants and the public. The panel will look at what hurdles stand in the way of improving the health and sustainability of buildings. Representing the Cleantech industry, as well as the perspective of Energy and Governments will be Brent Gilmour, CAGBC. Robert Dietrich, CFO of Armstrong Fluid Technology will speak to the contributions of manufacturers and technology providers. From the building management sector, Dan Gosselin, Senior Director, Professional Services, BGIS will speak to the capabilities, requirements and concerns of facility managers, owners and operators. Elizabeth McDonald, Sustainable Buildings Canada will add insights regarding the requirements for sustainable operations, and the opportunities for growth and development that is at the same time sustainable and profitable.
This virtual summit promises to be a lively and informative event, addressing some very topical issues for our times. The content will be of interest to building owners, designers, HVAC engineers and sustainability experts. All are welcome to attend and participate. Registration is available at https://mailchi.mp/76efe3446684/healthierbuildingsforagreenerfuture-4730238?e=f673002be4
Also Seen On