As Seen on empoweringpumps.com - April 15, 2019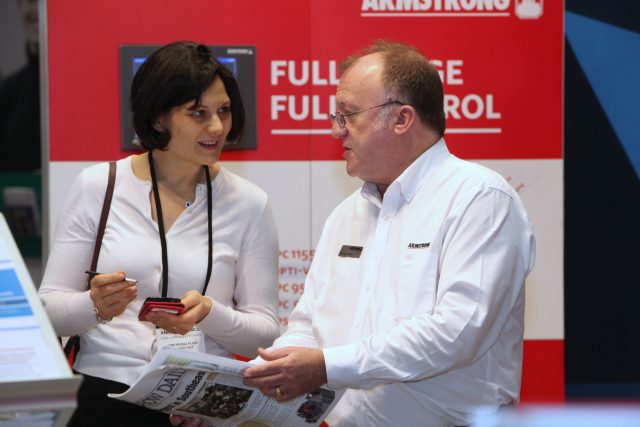 Described as high-spirited, optimistic, strong, and smiling in the face of adversity, the Empowering Pumps & Equipment Industry Person of the Week was nominated by her peers at Armstrong Fluid Technology. Anne-Laurence Chevalier, the Marketing Manager for HVAC and Automation Systems, earned her Engineering degree in France and has been involved with the HVAC industry in both Europe and North America with a strong focus on improving energy savings. Chevalier began her career in Belgium with design of air treatment equipment, and then contributed to engineering projects in Montreal developing, manufacturing, and delivering energy recovery units. She joined Armstrong Fluid Technology in 2013 to develop energy saving HVAC Hydronic systems built around cutting-edge feed forward control technology.
Our team is honored to feature this inspiring professional! This is what she had to share!
Q. How did you get started working in the Industry?
Anne-Laurence: As far as I can remember, I have always been fascinated by how we can make our everyday life easier by just improving a process or building a new tool or construction. So when I found out it was actually a profession, I knew I had found my path! There are different fields of engineering and I picked the one I found was the most practical and applicable in my mind (Process and chemical engineering). For example, I learned how to build and automate a water filtration plant, size heat exchangers, understand and calculate the heat transfer and heat distribution in a building, plan for a full automated plant that could extract titanium from a Brazil plant, treat it chemically to actually extract the metal, setup process and optimize it. I graduated as a Chemical and Process Engineer, and my first job was for an HVAC manufacturer for air treatment equipment. I applied what I learned about sizing air treatment equipment (air handling units, fan coil units, etc.), and since then, I never left the HVAC field! I really enjoy working in the HVAC industry, and working with Armstrong, I have increased my technical knowledge on the water side.
Q. What is your favorite part of your job?
Anne-Laurence: Every project is different, and each time, it involves design innovation – which I find to be a source of never-ending motivation. In each design, we always look for the most efficient solution which can be in terms of footprint, but most importantly, in terms of improving energy savings. I like the fact that we are solving issues, being practical in our daily life, finding the most efficient solution and that we have a positive impact for our community and environment.
Q. What advice would you give to someone new to the industry?
Anne-Laurence: Be curious and ready to learn. The HVAC industry involves a wide range of knowledge from different technical traditional fields (thermodynamic, mechanic, automation, etc.). The most exciting part is that it continues to evolve involving now with IoT and AI. A few years ago, pumps and chiller plants were just equipment, but they are now connected, becoming smart! It opens another range of perspective. Collecting data, defining a trend, comparing your building performance, predicting failures before it happens, learning and optimization. Our domain is in constant evolution!
Q. Can you tell us about a cool project you worked on?
Anne-Laurence: I have been leading the development of a standard chiller plant automation system. The development of a new product requires interaction and collaboration with different teams (sales, engineering and manufacturing) which is really interesting. At the same time, it was an opportunity to offer a standard solution for a type of product which is usually customized. The development took over 2 years, and we now have in our portfolio an offering which is already pre-engineered, pre-programmed and pre-tested, which makes it a really neat solution for any chiller plant automation. The other rewarding part, besides the development, is seeing the automation panel being installed. See below these pictures from the chiller plant control system I have developed and chiller plant package part of my portfolio.
Q. Have you faced any challenges as a female engineer?
Anne-Laurence: As a woman, I have never really felt any challenge working in the industry. There is always a challenge at the beginning of a conversation or working relationship when one assess how technical the conversation can be, but as soon as it is established that you can follow technically, have input or are curious to learn, it is usually easy. It also gets easier with experience.
Q. The leadership team that nominated you mentioned you have been a mentor within your organization. Can you tell me about that?
Anne-Laurence: The mentoring I have done has been for new engineers joining the team, whether they are just out of school or having some experience. We all have different backgrounds, so it is important to bring them up to speed. I have contributed to their education on technologies for each company I have worked for. It is also to continue to drive their interest, and I have been lucky to work for companies where I have been able to learn everyday. Mentoring has been a way to transfer that knowledge and help their curiosity thrive.
Thank you, Anne-Laurence, for being a leader in the HVAC Industry and a great role model for Young Professionals and Empowering Women! The #PumpTalk Community looks forward to keeping up with you!